Using the Reading Room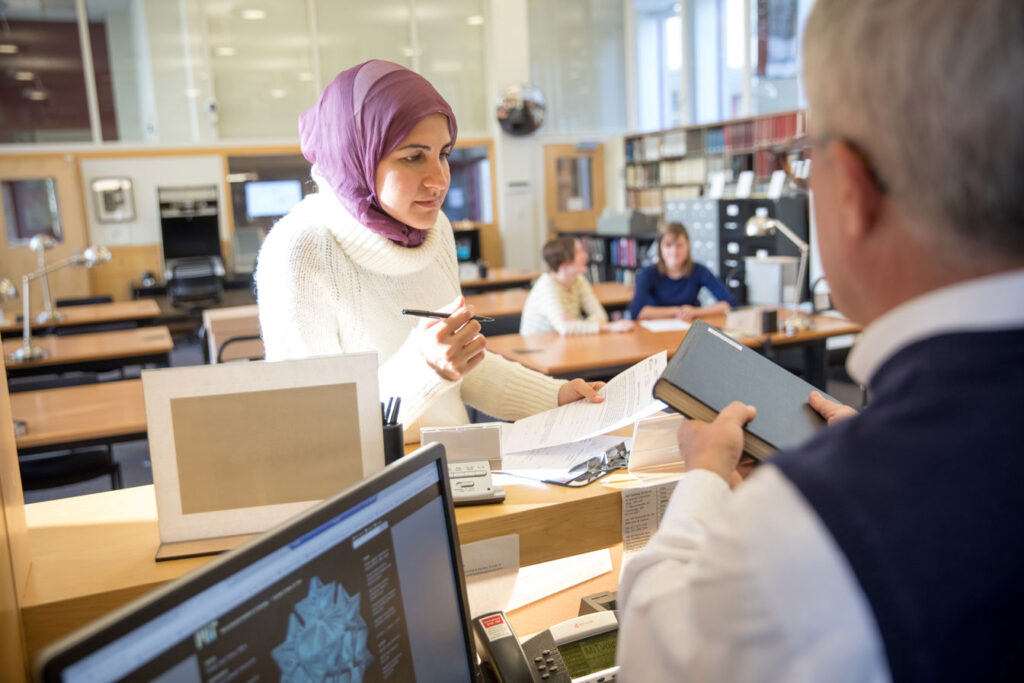 The Distinctive Collections Reading Room (14N-118) is open to all, regardless of institutional affiliation, for use of our collections. Our collections are original, unique and/or rare. They are sometimes fragile or on loan from other institutions. Therefore, we ask all users to help us keep the materials safe and secure by observing the following policies and procedures. All materials must be used within the Reading Room; items do not circulate.
Before you visit:
When you arrive:
As a limited-access reading room, our entrance door is kept locked and you will need to buzz in to enter.

We'll greet you upon entry and check you in with your MIT or photo ID. 

Eating and drinking in the Reading Room are not allowed. This includes water, candy, cough drops, and gum. Please dispose of open food and drink, including coffee cups, outside of the room.
Coat racks and lockers are available for use and clear plastic bags are available to help you carry personal belongings to your seat.
We provide and encourage the use of hand wipes before working with collections.

During your visit:
The MIT "GUEST" wireless network is open to all visitors on campus. When connecting, an email address or phone number is required.
Please help us maintain a quiet environment by turning off the sound on your electronic devices; use headphones; take cell phone calls outside; keep conversations low or step outside.
Users may use cell phones or cameras without a flash to take photographs of collections materials for study, scholarship, or research purposes only, and as allowed by copyright law.
The use of personal scanners and camera stands are not allowed in the Reading Room.
We will explain handling procedures for Distinctive Collections materials when items are served. Most commonly, book cradles are to be used with books, and gloves are to be used with photographic materials.
Materials may not be leaned on, written on, folded, traced from, or handled in any way likely to damage them. Users may be required to use microfilm, printed, or electronic copies of manuscripts or books when such copies are available.
Users will receive one box or item at a time. We ask that you use only one folder at a time from a given box and that the folders and folder contents not be reorganized.
Let us know if you need anything to help facilitate your work. We maintain tools for use such as magnifying glasses, ruler, tape measure, lightbox, or other equipment as we have many such items available for use.
After your visit – you may need to:
Cite a manuscript or archival collection, see example below.*

[Identification of item], [Date of Item], [Collection title], [Collection number], [Box number], [Folder number], [Folder title]. Department of Distinctive Collections, MIT Libraries, Cambridge, Massachusetts.

Cite an MIT thesis, see example below

[Author], [Title], MIT thesis, [year], [Degree], [Department]. Department of Distinctive Collections, MIT Libraries, Cambridge, Massachusetts.

Learn about publication and permission information – visit the MIT Libraries' Copyright Permissions Policy.
Learn about pricing and how to order digital copies of items you viewed via Imaging Services.
*Please note that some collections may not yet have been processed and may undergo weeding and rearrangement after your use.
---
Personal items that may be used:
Laptops and/or tablets
A bound notebook and/or book(s) for reference purposes (must be logged with staff at the service desk)
Camera and/or cell phone camera
Power cords and chargers
Personal notes (we encourage the use of paper provided at the Service Desk, all other loose materials will be stamped for admittance)
Pencils (provided)
Items that may not be used:
Pens/ink
Backpacks, bags, cases, covers, envelopes or enclosures, eye-glass cases, folders, luggage, purses, and other containers (must be placed in a locker or on the coat rack)
Our reading room temperature fluctuates. Layers of clothing such as jackets, sweaters and scarves, may be advisable for comfort. However, when not in use they must be returned to the locker area, not stored on chair backs or tables.