About Barker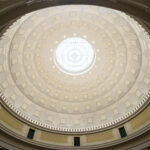 Barker Engineering Library (10-500) – McLaurin Building
Mailing address:
77 Massachusetts Ave., 10-500
Cambridge, MA 02139
Architect: William Welles Bosworth (1868-1966)
Built: 1916
Named after: James M. Barker, Class of 1907. Barker was an early leader in the field of international business who spoke eight languages, and had a lifelong interest in libraries and museums. He was a member of the MIT Corporation for almost 40 years, being its oldest active member when he died in 1974 at the age of 88.
Located in the heart of campus, the Barker Engineering Library is home to one of MIT's signature spaces. The main reading room of the Library is located on the fifth floor of Building 10, inside MIT's Great Dome, and has served as a library reading room since 1916, when the Institute moved to Cambridge from Boston. Recent renovation work restored the Dome's oculus, improved lighting and restored the colors of the original space.
Study space and technology: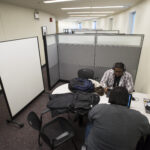 ample quiet space in the newly remodeled reading room with 24/7 access
group study spaces on the 5th and 8th floors
additional quiet study on the 6th and 7th floors
a "KIC" scanning station
Collections:
books, conference proceedings, and standards in a wide range of engineering topics augmenting an extensive digital collection
recreational reading and DVDs (otherwise known as "fun stuff") at the "Browsery" near the Service Desk
Fun fact:
The Dome's oculus was covered during WWII and has recently been restored to its original grandeur. Once nicknamed "the bat cave," natural light streams in once again.