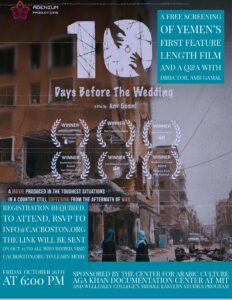 For several years AKDC@MIT has sponsored a film series with the Center for Arabic Culture here in Boston.  Though we have not been able to host in-person screenings since the onset of the COVID-19 pandemic, we have decided on a new way to continue this series online.  In collaboration with CAC Boston and the Middle Eastern Studies Program at Wellesley College, we will be hosting our first virtual screening of the new movie 10 Days Before the Wedding (2018), the first feature film shot in Yemen since the start of the conflict in 2014. The movie is directed by independent film and theater director Amr Gamal who will join us via Zoom for a Q&A on Friday, October 16th at 6 pm. Registration is required.  Those registered will receive a link to the video 24 hours before the Q&A.
10 Days Before the Wedding has been a great success in the Middle East, but it has not been commercially released in the United States.  It is the story of an engaged couple that has already had to postpone their wedding due to the conflict that has devastated so much of the country.  We meet them just a week and a half before their rescheduled date, when unexpected events once again threaten their celebration.  It is a particularly appropriate film to screen during UN-Habitat's Urban October, because the movie was made among the rubble of a city, Aden, heavily damaged by war, and is a poignant, yet light-hearted look at how life must go on in spite of great destruction. It is the recipient of multiple awards, including Best Screenplay at the Casablanca Arab Film Festival, the Audience Choice Award at the San Diego Arab Film Festival, and the Special Jury Award at Aswan International Women's Film Festival.
This screening is co-sponsored by the Middle Eastern Studies Program at Wellesley College.
Space is limited, and reservations are required.  Email info@cacboston.org to reserve your place.  Registered participants will receive a link to watch the film in advance, and a link to the discussion. 
We are looking forward to this socially distanced revival of our series, and seeing everyone again.