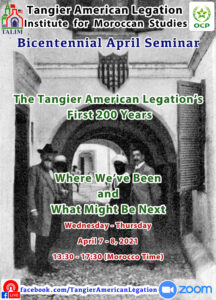 Michael Toler, Archnet Content Manager, will participate in the annual April Seminar of the Tangier American Legation Institute for Moroccan Studies, headquartered in the old American Legation in the medina of Tangier, Morocco. Though the building has completely transformed over the past 200 years, the property was originally gifted to the young nation of the United States in 1821, making 2021 the bicentennial anniversary of the Legation.
In celebration of the occasion and the long friendship between the United States and Morocco that it represents, this year's annual April Seminar has the theme of "The Tangier American Legation's First 200 years: Where We've Been and What Might Be Next?" It will be held online, due to travel and assembly restrictions imposed to combat the COVID-19 pandemic.
Dr. Toler will open the closing session of the seminar with "Preserving cultural heritage: The role of the Tangier American Legation," at 4 pm in Morocco, 11 am Eastern in the US. The presentation looks at the role of the Tangier American Legation in preserving the cultural heritage of Morocco and the history of US-Moroccan relations. The paper reviews the establishment of the museum's collections, including the research library, and looks at some of the challenges faced in maintaining a cultural heritage collection in the old medina in Tangier. It also surveys recent collaborative efforts to digitize significant parts of the collection in order to ensure more effective conservation while simultaneously facilitating access, with a particular focus on the ongoing collaboration between the Aga Khan Documentation Center at MIT, Wellesley College's Program in Middle Eastern Studies, and TALIM to digitize and make more readily available to the public media from the collections of TALIM.
View the full program.
The Bicentennial April Seminar will take place on Zoom Wednesday, April 7 and Thursday, April 8, 13:30-17:30 in Morocco (8:30 am – 12:30 pm Eastern in the US), and will be broadcast live on TALIM's Facebook page.
Zoom participation is open to the public, but requires advance registration at https://aimsnorthafrica-org.zoom.us/meeting/register/tJIpceqvqj0tGddOkhOsADA-ObWT1JI9Emcn
After registering, you will receive a confirmation email containing information about joining the meeting.