Collections
Our collections include a variety of resources including photographs, images, maps, documents, and more. The non-exhaustive list below provides examples of our collections, categorized by type.
All collections are available at the Aga Khan Documentation Center to students, faculty, researchers, and scholars. Contact us for access.
For resources including and beyond our collections, see our research guide: Art & Architecture of the Islamic World.
---
Aga Khan Visual Archive
The Aga Khan Visual Archive (AKVA) combines both a legacy collection and new materials. The legacy archive contains nearly 120,000 slides and digital images of architecture, urbanism, and the built environment of Muslim societies, donated by graduate students traveling on AKPIA Travel Grants, scholars, and architectural firms. AKVA contains all born-digital AKDC material through 2013.  The material documents historic and contemporary sites, including some that are no longer extant.
Contact us with questions about the full collection, to make an appointment to visit, or request reproductions
---
Besim Hakim Archive – Architects' Archives
Besim Hakim has become a prominent, internationally recognized expert on traditional and vernacular settlements and architecture, an interest that stems from "a conviction that the more we understand the experience of varied cultures across space and time, the more we are able to develop a viable and comprehensive theory of architecture and urbanism."
---
Ali Tayar Archive – Architects' Archives
Ali Tayar was a modernist in the purest sense. Born in Turkey, he trained first as an architectural engineer in Stuttgart then as an architect at the Massachusetts Institute of Technology (MIT) in Cambridge. Reflecting this dual training, Tayar's body of work was informed throughout by the parallel structural thinking in architecture and engineering.
---
Mohamed Makiya Archive – Architects' Archives
Mohamed Saleh Makiya (1914-2015) was born in Baghdad and educated in England, receiving his BArch at Liverpool School of Architecture and a diploma in civic planning from Liverpool University in 1941 and 1942, respectively.
---
Michel Écochard Archive – Architects' Archives
Michel Écochard was a French architect and urban planner who undertook major projects in Cameroon, Côte d'Ivoire, France, Guinea, Lebanon, Morocco, Pakistan, Syria, Turkey.  He was a winner of the Aga Khan Award for Architecture for his role in the ongoing restoration of the Azem Palace in Damascus. The collection represents his work as an architect, urban planner and archaeologist, and demonstrates his keen interest in photography and aviation.
---
Rifat Chadirji Archive – Architects' Archives
Rifat Chadirji references both authentic regional expression and the principles of modernism, synthesizing traditional architecture with contemporary expressions. But Chadirji is also a major figure in one of the most important and influential architectural schools in the Arab world, the Baghdad School of Architecture.
---
Hisham Munir Archive – Architects' Archives
Hisham Munir, founder of Hisham Munir and Associates, ranks among the most prominent architects in 20th century Iraq and is considered a pioneer in Iraqi modern architecture.
---
Marilyn Jenkins-Madina Archive – Scholars' Archives
Marilyn Jenkins-Madina is Curator Emerita, Department of Islamic Art at The Metropolitan Museum of Art.
---
Yasser Tabbaa Archive – Scholars' Archives
Since receiving his PhD from New York University in 1982, Yasser Tabbaa has taught Islamic art and architecture for more than 30 years at several research universities in the US and the Middle East.
---
John A and Caroline Williams Archive – Scholars' Archives
Caroline Williams is a scholar of Islamic art and architecture, and an expert on the architecture of Cairo. This collection contains photographs taken during the travels East and Southeast Asia, India, the Fertile Crescent, and the Mediterranean.
---
Bing & Harrington Balkan Archives – Specialized collections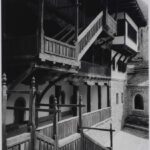 A collection of photographs, drawings, exhibition panels, travel records, published papers, collected books and articles focused on the vernacular architecture of the Balkans. They maintain the Balkans Vernacular Architecture site. Contact us for information on this collection.
---
Isfahan Urban History Project – Specialized collections
Archive of slides, negatives, field notes, original drawings, plans, maps, photos, notes, and drafts documenting the development of Isfahan, Iran, from the time of the Buyid dynasty by Dr. Lisa Golombek and Dr. Renata Holod.
---
Rifat and Kamil Chadirji Photographic Archive – Specialized collections
The collection illustrates daily life, cultural engagement, and social conditions in the Middle East from the 1920s – 1970s. This important record also provides a unique look at the significant transformation of Baghdad's built environment over time.
---
Timurid Architecture Research Archive – Specialized collections
Contact us for more information
---
Notes from the Archives
When an archive arrives at the Aga Khan Documentation Center at MIT, that is only the first step in a long process that may involve sorting, preservation, cataloging, digitizing, and final preparation for publication on Archnet or elsewhere. In this unique collection, AKDC Collections Archivist Betsy Baldwin provides glimpses into the process, as well as updates on collections and items that may not yet be available on Archnet.
---
Contact us for more information on these collections or our complete holdings.