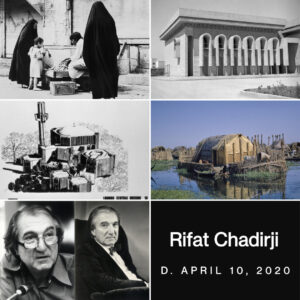 The staff of the Aga Khan Documentation Center, MIT Libraries (AKDC@MIT), is saddened to learn of the death of the great Iraqi architect Rifat Chadirji (December 6, 1926-April 10, 2020). Chadirji was "a thinker, author, critic, & rationalist architect with a refined aesthetic sensitivity, he devised a particular approach to architecture that he called international regionalism," according to Nasser Rabbat, Aga Khan Professor and the Director of the Aga Khan Program for Islamic Architecture at MIT
Rabbat went on to characterize the deceased architect as "one of the most influential shapers of modern Baghdad and an original theorist of architecture with a broad historical and cultural breadth."
In 1986, Rifat Chadirji was a recipient of the Aga Khan Award for Architecture Chairman's Award, one of only 4 people to be honored with the prestigious prize. He was also an associate researcher of the Aga Khan Program for Islamic Architecture for a period.
In 2017 Rifat Chadirj generously donated his architectural archive AKDC@MIT so that they may be made more easily available to researchers. He also donated an extensive archive of his own and his father, Kamil Chadirji's photographs. Both were prolific and talented photographers who documented many decades of life in Iraq and Syria.
The Aga Khan Documentation Center and the MIT Libraries are deeply grateful to Rifat Chadirji for his generosity. We send our deepest condolences to Balqees Chadirji and their entire family at this difficult time.