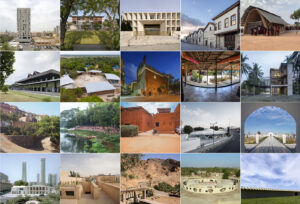 Geneva, Switzerland, 2 June 2022 – The Aga Khan Award for Architecture (AKAA) today announced 20 shortlisted projects for the 2022 Award cycle. The projects will compete for a share of the US$ 1 million prize, one of the largest in architecture.
The 20 shortlisted projects were selected by an independent Master Jury from a pool of 463 projects nominated for the 15th 3-year cycle (2020-2022) of the prestigious award.
Independent experts, including architects, conservation specialists, planners and structural engineers, have conducted rigorous on-site reviews for each project . The Master Jury meets again this summer to examine the on-site reviews and determine the final recipients of the Award.
The Aga Khan Award for Architecture was established by His Highness the Aga Khan in 1977 to identify and encourage building concepts that successfully address the needs and aspirations of communities in which Muslims have a significant presence. Since it was launched 45 years ago, 122 projects have received the award and nearly 10,000 building projects have been documented. This documentation is the core of Archnet's collection of modern and contemporary architecture.  The AKAA's selection process emphasizes architecture that not only provides for people's physical, social and economic needs, but also stimulates and responds to their cultural aspirations.
Photographic representations of the 20 shortlisted entries will go on display in an exhibition in King's Cross, London from 2 June to 30 June, as part of the King's Cross Outdoor Art Project, coinciding with the London Architecture Festival.
Information on the 20 shortlisted projects below is already available on Archnet. as is a video introduction.
Bahrain
Bangladesh
Cape Verde
India
Indonesia
Iran
Lebanon
Kuwait
Morocco
Niger
Palestine
Senegal
Sri Lanka
Tunisia
Turkey
United Arab Emirates
The nine members of the independent Master Jury who selected the 20 shortlisted projects are: Nada Al Hassan, an architect specializing in the conservation of architectural and urban heritage; Amale Andraos, Professor at the Columbia University Graduate School of Architecture, Planning and Preservation; Kader Attia, an artist who explores the wide-ranging effects of western cultural hegemony and colonialism; Kazi Khaleed Ashraf, director-general of Bengal Institute for Architecture, Landscapes and Settlements, in Dhaka, Bangladesh; Sibel Bozdoğan, a Visiting Professor of Modern Architecture and Urbanism at the Department of the History of Art and Architecture, Boston University; Lina Ghotmeh, a French-Lebanese architect who leads a practice where every project learns from a vernacular past to build a new "déjà-là"; Francis Kéré, an AKAA laureate and internationally renowned Burkinabè architect who received the Award in 2004 for his first project, an elementary school in Gando, Burkina Faso ; Anne Lacaton, founder of Lacaton & Vassal in Bordeaux in 1989, who focuses on the generosity of space and economy of means; Nader Tehrani, founding principal of a practice dedicated to design innovation, collaboration and a dialogue with the construction industry.
The Aga Khan Award for Architecture is governed by a Steering Committee chaired by His Highness the Aga Khan. The other members of the Steering Committee are Sheikha Mai Bint Mohammed Al Khalifa, President, Bahrain Authority for Culture and Antiquities, Manama; Emre Arolat, Founder, EAA – Emre Arolat Architecture, Istanbul; Meisa Batayneh, Principal Architect, Founder, maisam architects and engineers, Amman; Sir David Chipperfield, Principal, David Chipperfield Architects, London; Souleymane Bachir Diagne, Director, Institute of African Studies, Columbia University, New York; Nasser Rabbat, Aga Khan Professor, Massachusetts Institute of Technology, Cambridge; Marina Tabassum, Principal, Marina Tabassum Architects, Dhaka; and Sarah M. Whiting, Dean, Graduate School of Design, Harvard University, Cambridge. Farrokh Derakhshani is the Director of the Award.
The Aga Khan Award for Architecture recognizes examples of architectural excellence in the fields of contemporary design, social housing, community improvement and development, historic preservation, reuse and area conservation, as well as landscape design and improvement of the environment.
Particular attention is given to building schemes that use local resources and appropriate technology in innovative ways and to projects likely to inspire similar efforts elsewhere. It should be noted that the Award not only rewards architects, but also identifies municipalities, builders, clients, master artisans and engineers who have played important roles in the project.
To be eligible for consideration in the 2022 Award cycle, projects had to be completed between 1 January 2017 and 31 December 2021, and should have been in use for at least one year. Projects commissioned by His Highness the Aga Khan or any of the institutions of the Aga Khan Development Network (AKDN) are ineligible for the Award.
The Aga Khan Award for Architecture is part of the Aga Khan Development Network (AKDN). Founded and guided by His Highness the Aga Khan, the AKDN works in 30 countries to improve the quality of life and to create opportunity for people of all faiths and origins. Its agencies operate over 1,000 programmes and institutions – some more than a century old. The Network's approach to development spans a range of cultural, social, economic and environmental endeavours. The mandates of its agencies include education and health, agriculture and food security, micro-finance, human habitat, crisis response and disaster reduction, protection of the environment, art, music, architecture, urban planning and conservation, and cultural heritage and preservation. AKDN employs approximately 96,000 people, the overwhelming majority of whom are based in developing countries. AKDN's annual expenditures for non-profit development activities is around US$ 1 billion.