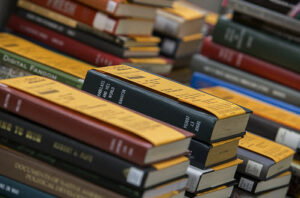 BorrowDirect, the service that allows MIT faculty, students, and staff to borrow materials from 12 partner institutions, is migrating to a new technology platform Dec. 13, 2022. The new platform, known as ReShare Returnables, will allow us to improve service using the latest library technology.
Why the change?
Because ReShare is open source, we'll have more opportunities to customize the service as our needs change, and we'll be able to adapt to new technologies more quickly. The new platform is also owned and governed by a community of libraries and developers, promoting collaboration across libraries and institutions and creating more opportunities for future functionality.
What changes will library users notice?
A new and improved search interface, which will make it easier for users to discover and request materials in the collective collections of our Ivy Plus Libraries Confederation partner institutions.
What will be the same?
Borrowing materials from any of our 12 partner libraries will be convenient, with delivery to any one of five MIT Libraries

locations

for pickup.

Loans made through the new system will check out to users for 120 days.
What do you need to do?
Keep requesting materials you need. The same collections from the same Ivy Plus schools are still available for you. We are currently routing all borrowing requests for books through our

interlibrary borrowing service

.

Check

Your Account

to see if you have overdue items borrowed under the old system, and if so, please return them. If you still need the materials, you can get them by:  
Export your request history if you are interested in keeping it.

See our directions here

or

ask library staff

for help downloading this information. This information cannot be moved into the new system, and it will no longer be available after March 2023.

Expect changes. ReShare is a work in progress; we're confident that the platform at launch will be able to handle the needs of the BorrowDirect community, but the IPLC libraries are actively working with the developers to build enhancements to improve the service.
Questions? Contact us!
One thing that won't change: MIT Libraries staff will be here to answer your questions and help make this transition as smooth as possible. Please don't hesitate to contact us.