Collections & Distinctive Collections
Give a gift that provides long-term access to research materials.
---
Collections
Information resources are at the core of any research library, and MIT scholars draw on millions of research articles, tens of thousands of books, and countless additional data types in the course of their work.
The quality, quantity, and accessibility of our collections are vital to academic success and productivity. Demand for access to new materials in digital and tangible formats is greater than ever, but comes at a cost — a cost that consistently outpaces inflation each year.
What constitutes "collections" for the MIT community?  Here are a few examples:
Electronic books and journals in all subject categories
Digitized back issues of academic journals to complete online access to journal collections for all disciplines
Materials to support MIT's Cancer and Innovation Initiatives
Key resources for use in MITx courses
Open Access ebook, journal, and pre-print models
---
Distinctive Collections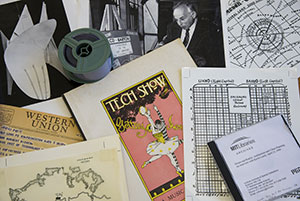 Our Distinctive Collections contain unique, rare, and/or original materials in many formats, including letters, diaries, videos, scrapbooks, and letterpress volumes. The special nature of such collections often makes their care, preservation, and accessibility challenging and expensive. Our goal is to showcase and share these unique treasures with the MIT community and researchers around the world. A few examples:
Digitize and preserve the special collections and research materials of renowned MIT faculty:

Harold Isaacs collection
Noam Chomsky collection
Herb Pomeroy collection
Kenneth Hale tapes

Acquire audio-visual materials that document current and historical academic and other events at MIT, research outcomes, courses, and related content
Preserve and digitize at-risk rare books, antique maps, travel guides, and multimedia
Digitize all MIT theses
Digitize selected archival records, and technical reports from MIT labs for use in MIT classes
Advance letterlocking research