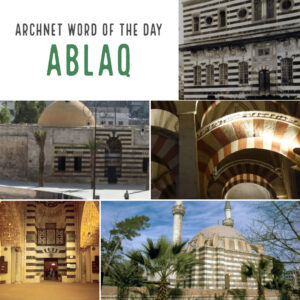 Yesterday Archnet social media featured the first of a new series of "Word of the Day" updates.  The first word is ablaq, defined by the Dictionary of Islamic Architecture as "term used to describe alternating light and dark courses of masonry."  In the image to the left you can see five examples of the style from including a hammam in Aleppo, a palace in Damascus, a mosque that is now a cathedral in Cordoba, and mosques in Tripoli (Lebanon), and a mosque complex in Damascus.
The next word in the series, "almena" is defined by the Oxford Dictionary of Architecture as the "upright, solid, part of a battlement shaped like a trapezium with serrated sides, characteristic of Moorish architecture." Whereas in English the word is specific to a certain shape of battlements, the word itself is interesting because it is  believed to be an "Arabized" corruption of an older Spanish word with Latin roots.
The series will continue on an occasional basis, featuring terms in alphabetical order. Follow our social media to see future posts.