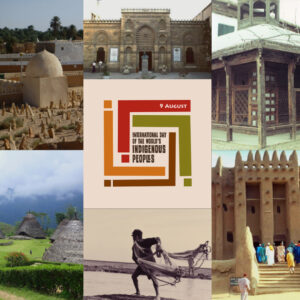 To mark International Day of the World's Indigenous Peoples on August 9, Archnet is highlighting the architecture of indigenous people.  The background images on the site are photographs of the Amin Mosque, a Uyghur mosque built in the 18th century in northwest China; and a street in the Old Town of Ghadames, an oasis town on the edge of the Sahara Desert in Libya. Click the images and text on the homepage tiles to learn about more resources devoted to the theme.
There is also an Archnet collection that gathers select resources focusing on manifestations of indigenous culture and vernacular building techniques, as well a broader issues of cultural diversity, particularly as they relate to Muslim communities.  Just click "View the Collection" to explore.
International Day of the World's Indigenous Peoples has been marked annually since 1982. According to a message from UNESCO,
Indigenous persons…face a number of considerable challenges, including growing migration, educational disadvantage, pressure to culturally assimilate, enforced relocation, gender-based violence and other forms of discrimination, poverty, as well as limited access to health services, employment, information services and broadband connectivity.