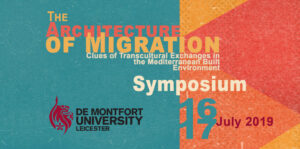 Michael Toler will present on "International Tangier: Stagnation and Growth in the 20th Century" in a Symposium on "The Architecture of Migration, Clues of Transcultural Exchanges in the Mediterranean Built Environment," July 16th-17th at the Leicester School of Architecture, De Montfort University in the UK. The symposium is organized by Beniamino Polimeni, a researcher, designer and an architectural conservator who was a 2013 postdoctoral fellow in the Aga Khan Program for Islamic architecture at MIT, and Yasser Megahed is a Lecturer at Leicester School of Architecture, UK. Full organizer biographies are available on the conference website.
The symposium comes at the end of a series of workshops suggesting
the different ways in which migrants coming from the "global south" have shaped the built environment of the European and Mediterranean countries generating a diverse and rich architectural and urban landscape forms. Cultural, Social and economic aspects of this phenomenon will also be analysed in a series of workshops which will introduce and support the main event.
Toler's interest in the history and urban development of Tangier began when he lived there in the 1990s, an economically difficult period in the city's history. His current research springs from his supervision of a project to digitize a collection of glass negatives showing the city of Tangier in the early 20th c. when the city was in a prosperous period of growth, albeit under foreign administration. In recent years the city has been undergoing a transformation, the pace of which is probably greater than that of the early 20th c. Both of these prosperous periods were also ones of significant migration into the city.  It is this interaction between migration and urban development that Toler's research currently explores.
More information about the symposium is available on the website, including the program objectives, schedule, speakers, and registration information.