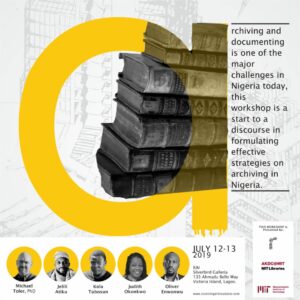 LAGOS, Nigeria – From 12 – 13 July 2019, Revolving Art Incubator will host Michael Toler, Head of the Aga Khan Documentation Centre, MIT Libraries (AKDC@MIT) and Jelili Atiku, multimedia artist and Visiting Professor at Brown University, Kola Tubosun, writer, linguist and Founder of Yorubaname.com, Judith Okonkwo, Creative Director of Imisi 3D Lab and Oliver Enwonwu, Director of Omenka Gallery and Trustee of Ben Enwonwu Foundation to facilitate the commencement of our apprenticeships programme with archiving and documenting as its central theme. The apprenticeship programme at RAI represent one-leg of our 3-pronged extroversion agenda; the other two being the outposts and experiments. For 2 days, these resource persons will train young men and women in standard ways of curing the national malaise of documenting and archiving.
Michael Toler is Interim Program Head and Archnet Content Manager in the Aga Khan Documentation Center, MIT Libraries (AKDC@MIT). Prior to that he served as the Program Director for the Al Musharaka Initiative of the National Institute for Technology and Liberal Education (NITLE).  Michael received a PhD in Comparative Literature with a Certificate in Translation Studies from Binghamton University (SUNY), after teaching in Morocco at L'Ecole Supérieure Roi Fahd de Traduction and Al Akhawayn University in Morocco. He also holds an MA and BA in English from New York University and Virginia Commonwealth University, respectively. He has published and lectured extensively on digital pedagogy and scholarship, as well as the literature, history, cinema, music, and cyberspace of the Maghreb, and the Middle East more widely. Michael is Board Member and Secretary of the Tangier American Legation Institute for Moroccan Studies.
Jelili Atiku is a Nigerian multimedia artist whose work promotes freedom of expression and addresses human rights and social justice issues. Through his practice, he strives to help viewers understand the world and expand their experiences so they can activate and renew their lives and environments. In 2015, Atiku received the Netherland's Prince Claus Fund Award, which honors visionary individuals and organizations for their ground-breaking work in culture. In 2017, he participated in the 57th Venice Biennale—the first time Nigeria was represented at the festival—performing his ritualistic work Mama Say Make I Dey Go, She Dey My Back, a dialogue between corporality and materiality. Atiku was trained at Ahmadu Bello University, Zaria, and University of Lagos, both in Nigeria, where he was awarded a Bachelor of Fine Arts and a Master of Visual Arts, respectively. He teaches sculpture in the Department of Art and Industrial Design at Lagos State Polytechnic. He is also the artistic director of AFiRIperFOMA, a collective of performance artists in Africa, and chief coordinator of Advocates for Human Rights Through Art. In 2018, Atiku was awarded a prestigious Artist Protection Fund (APF) Fellowship and is currently in residence at Brown University. For the duration of his APF Fellowship, Atiku has been appointed to a year-long visiting assistant professorship in the Department of Africana Studies.
Kọla Túbọsún is a Nigerian linguist, writer, and scholar. His works have been published in African Writer, Aké Review, Brittle Paper, International Literary Quarterly, Jalada, Popula, Saraba Magazine, etc. In 2016, he became the first African to be given the Premio Ostana, a prize given for work in indigenous language advocacy. Tubosun is the brain behind YorubaName.com, a first crowdsourced multimedia dictionary of Yorùbá names. He has been translated to Italian and Korean, and currently works as a freelance lexicographer with Oxford University Press, UK and a speech linguist at Google Nigeria. His collection of poetry Edwardsville by Heart was published in November 2016 by Wisdom's Bottom Press, UK.
Judith Okonkwo is a Technology Evangelist, Business Psychologist and Organisation Development Consultant with experience working in Africa, Asia and Europe. She is the creator of the Oriki Coaching Model™ and a co-founder of We Will Lead Africa. Judith is a Fellow of the Royal Society of Arts and an Associate Fellow of the British Psychological Society. In 2016 Judith set up Imisi 3D a creation lab in Lagos, Nigeria focused on building the ecosystem for extended reality technologies (AR/VR/MR). The lab provides learning opportunities and access to XR resources for creators and enthusiasts, while supporting engagement and adoption by the wider community, and consulting and creating content for clients. In 2018 she set up AR/VR Africa which held the largest XR event on the continent, an AR/VR hackathon across 7 African countries simultaneously. As Imisi 3D's creative director, Judith is especially passionate about using immersive technologies as a new form of expression for African voices in the arts and has produced, directed and curated pieces for festivals and private viewings, including the African content at the Cairo International Film Festival's first VR section in 2018.
Oliver Enwonwu is founder and Editor-in-Chief of Omenka magazine, Director, Omenka Gallery and Trustee of the Ben Enwonwu Foundation. He holds a first degree in Biochemistry, advanced diploma in Exploration Geophysics (distinction), Post Graduate Diplomas in Applied Geophysics and Visual Art (distinction) and a Masters in Art History, all from the University of Lagos. He is the founder, Executive Director, and trustee of The Ben Enwonwu Foundation. He also sits on the board of several organizations including the National Gallery of Art, Nigeria and the Reproduction Rights Society of Nigeria. Enwonwu is also president of both the Society of Nigerian Artists and the Alliance of Nigerian Art Galleries.
Due to the transdisciplinary nature of the project, prospective apprentices will receive basic training in architecture, writing and photography. Facilitators include Jide Adeniyi-Jones, Chuka Ihonor, Paul Akpokodje, James Inedu George, Olajide Ayeni, Enioluwa Aiyejusunle, Alexander Agho, Ita Ekanem
This workshop is facilitated and sponsored by Revolving Art Incubator RAI, Aga Khan Documentation Center at MIT's Libraries, A3/Archives of African Architectures, kind donations by Olumide Makanjuola and media support from TSA Magazine, ASIRI Magazine and Omenka Online. Prospective attendees will need to pre-register by sending an email with the Title: "Reservation" and Body containing: "full name and discipline" to: incubator@revolvingartincubator.com
About RAI
Revolving Art Incubator was founded in 2016 by Jumoke Sanwo as an alternative art space and spatial intervention at the Silverbird Galleria for emerging and mid-career artists to foster artistic and social development. In 2019, under the artistic direction of Baba Oladeji RAI titled 'Extroversion', RAI is leaving behind formal knowledge at the Silverbird VI base to embrace Street knowledge in a transdisciplinary project that necessitates an intersection of art, design and architecture
About Extroversion
Extroversion, our big English for going to the Street prefers to do away with the insular, white-walled gallery, which we see as a vestige of the colonial; instead we embrace the city, scouting for existing cultural substructures such as newspaper stands, markets, Owambe and apprenticeships to study and build on.
About AKDC @ MIT Libraries
Aga Khan Documentation Centre is a research centre supporting teaching of, and scholarship on, the history and theory of architecture, urbanism, environmental and landscape design, visual culture, and conservation, as well as the practice of architecture, in Muslim societies. Situated within the MIT Libraries, AKDC @ MIT, a part of the Aga Khan Program for Islamic Architecture AKPIA at MIT and Harvard, was established in 1979 by a gift from His Highness the Aga Khan