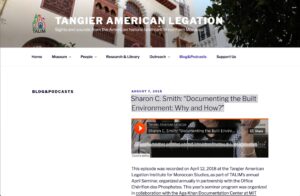 The presentations "Documenting the Built Environment: Why and How?" by Sharon C. Smith, "Documenting the Cultural Heritage of a Society in Transition" by Michael A. Toler are now available online at the web site of the Tangier American Legation Institute for Moroccan Studies (TALIM).
The presentations were recorded on April 12, 2018 at the Legation in Tangier, Morocco, as part of TALIM's annual April Seminar, organized annually in partnership with the Office Chérifien des Phosphates. This year's seminar program was organized in collaboration with the Aga Khan Documentation Center at MIT (AKDC@MIT).
The audio and slides from the session will also be made available on Archnet. Follow our online presences for updates.