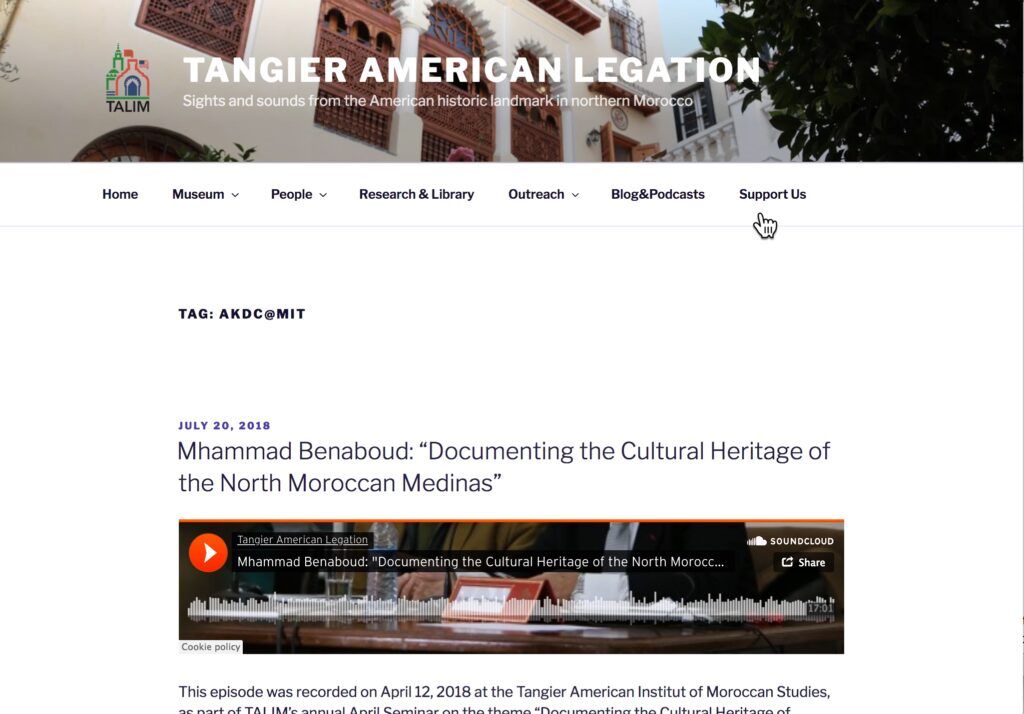 In April Michael A. Toler, Archnet Content Manager, and Sharon C. Smith, Program Head of the Aga Khan Documentation Center at MIT (AKDC@MIT) traveled to Morocco for a workshop and seminar organized by AKDC@MIT and the Tangier American Legation Institute for Moroccan Studies (TALIM).  Following these events Smith and Toler traveled to other cities in Morocco to discuss possibilities for collaboration.
The workshop and seminar, held at TALIM April 11-12, focused on digital preservation of cultural heritage in Northern Morocco, were attended by researchers, scholars, preservationists, and representatives of cultural heritage institutions including universities, libraries, government and non-governmental institutions with a focus on preservation. The facilities of the museum housed in the former American Legation in the medina of Tangier, provided a particularly fitting setting for the event. The Legation was  designated a National Historical Landmark of the United States in 1982, and is also recognized as a historic site by Morocco.
The workshop on April 11 provided an opportunity for representatives of cultural heritage institutions in the northern part of Morocco to discuss and explore solutions to the challenges of sustainable documentation of cultural heritage. That evening the Cinematheque de Tanger hosted a public screening of footage from film projects being prepared by students of the cinema program of Abdelmalek Essaadi University in Tetouan.  The program was organized by Ayoub Lahlou, Outreach Coordinator of TALIM, and a Masters Degree Candidate in the program.
The seminar on April 12, also organized by Toler and Smith, included academics, activists, curators, librarians, and others involved in the preservation of architecture and other tangible cultural heritage.  Open to the public, it was intended to raise awareness of the importance of documenting  and preserving cultural heritage, and of the opportunities and challenges this entails. Sessions were recorded, and are currently being made available on TALIM's website, along with additional photographs of the events. The full schedule is available here.
In the two weeks following the seminar, Smith and Toler traveled to Rabat, Casablanca, Marrakech, and Ben Guerir for a series of meetings and presentations introducing AKDC@MIT and exploring possibilities for collaboration with institutions of higher education, libraries, and heritage organizations.
The gallery below presents some of the highlights of the trip. Look for more information on the outcomes of these visits in the coming months here, on Archnet, and in our social media.