Inside our organization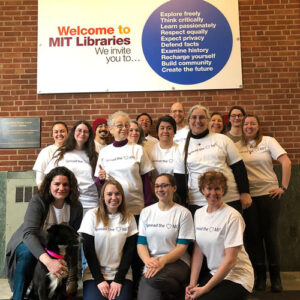 Meet our staff
We aim to solve hard problems and tackle grand challenges in our work and our profession. Library staff at all levels contribute to our mission and to a culture that values openness, inclusion, innovation, and community.
Take a look inside our organization
Discover who we are and how we work, and find opportunities to join our team.
Leadership
Get to know Director Chris Bourg and the rest of our senior leadership team.
Jobs
The Libraries seek professionals who enthusiastically embrace the empathy, courage, self-reflection and respect of a multicultural, diverse, and inclusive workplace and who strive to incorporate those values in their work and interactions.
Surveys and assessment
Find information on the MIT Libraries Assessment Program and MIT Libraries surveys.
Organizational membership
See a list of organizations in which we maintain membership.