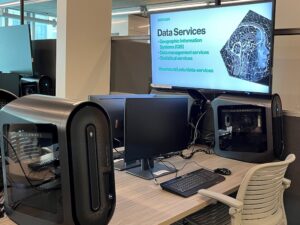 Eight new top-of-the-line machines have just arrived in the GIS & Data Lab. Housed on the first floor of Rotch Library (7-238), the lab offers resources in geographic information systems (GIS), data visualization, data management, and statistical software for the Institute community.
Here's what you need to know about this new resource for the community and how you can use the lab: 
These powerful computers are available to the entire MIT community.
Run complex data processing tasks in less time with computing power you won't find on other shared machines on campus (Aurora R15, RTX4090, Intel Core i9-13900F, see more specs).
You don't need to book a time to come use the computers in the lab.


Drop in anytime during the

lab's hours

. If you would like to use computers outside of regular hours, or are unable to come to Rotch Library, submit our

help request form

to make a

reservation to use them remotely

.

You don't need to be working on GIS projects to use the lab.
Use the lab if you are part of the Institute community and working on MIT-related work. Please note that projects using software already installed on the computers take priority.
You can suggest new software.


See what's available

on lab computers. If we don't have what you need, submit a suggestion via our

help request form

.



The lab is a collaboration space.
Come check out a great place for group work on campus.
 MIT ID is required to enter the lab. Learn more about the GIS & Data Lab and MIT Libraries' Data Services.