GIS & Data Lab
The GIS & Data Lab, housed on the 1st floor of Rotch Library (7-238), is available for use during Rotch's operating hours. Computers and in-person help is available for the MIT Community only. See Data Services for more info on how to get help.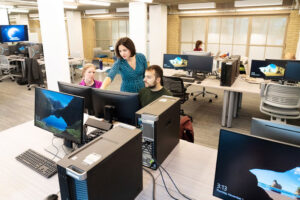 Using the lab
Valid MIT ID required for access.
The lab can be used for group study, but there are no private study rooms.
The lab may occasionally be reserved in part or full for workshops. Information on closures for workshops will be posted on our GIS guide.
---
Computers
The GIS & Data Lab is open to all MIT community members. A reservation is required if you will be using a computer remotely.
Software
The following software is installed on all computers unless otherwise indicated. Use of licensed software is restricted to members of the MIT community for the purposes of research, education, and scholarship. Additional software may be requested pending relevance, cost, and licensing terms by emailing gishelp@mit.edu.