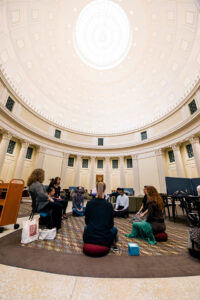 For the last several years, the Libraries have been pleased to sponsor a half hour of silent mindfulness in the Barker Reading Room on Mondays at noon.  Those familiar with the program will notice it has a new name: "Calm Under the Dome." The previous name, "Om Under the Dome," made clever use of the word "om." Many of us think of "om" as simply a mantra — a useful syllable for meditators.  It is, in fact, a word with deep spiritual meaning in several religious traditions.  Making playful use of such a word is not aligned with the Libraries' values of inclusion and respect for all.
So, please join us for Calm Under the Dome every (non-holiday) Monday at noon starting January 7, and help make 2019 a year of peace and harmony for everyone. No previous experience is necessary, and you don't have to stay for the full half hour; even a few minutes of clearing your mind and focusing on the calm beauty of MIT's Great Dome will help you be more relaxed, energized, and productive.
Please note that Thursday evening sessions will not continue this spring.