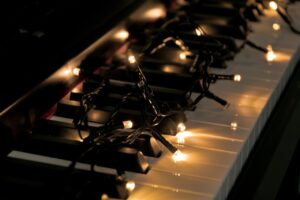 Tis the season! In celebration of the holidays and all things wintry and festive, the Lewis Music Library has taken suggestions from MIT Libraries staff and curated its first annual Lewis Music Library Holiday Playlist! From Bing Crosby to Sia, ABBA to Mary J. Blige, there is something for everyone to enjoy.
But wait, there's more! We've curated a second selection of holiday favorites from our popular streaming media database, Naxos Music. This playlist offers more "classical" arrangements from vocal ensembles, bands, chamber music groups, orchestras, and more — perfect for a relaxing night by the fireplace with your favorite holiday beverage.
We hope you find these selections inclusive and use this as a tool to discover new genres, artists, and cultures. We also hope you use this playlist to relax, bring joy to those you love, and celebrate your successes from the year.
Please be sure to stop by Lewis before winter break and see displays and offerings of other holiday musical resources from our collection.