In celebration of International Open Access Week, we're running a series of stories about open scholarship that prioritizes community-run publishing and infrastructure. Today's piece is written by Amy Nurnberger, program head for MIT Libraries Data Management Services. 
Come to the Hayden Library (The Nexus, 14S-130) October 24 at 3 pm to celebrate the 2023 Open Data Prize winners. More info here
Congratulations! You've completed your research and even published your article open access, using some of the great resources from the MIT Libraries. You are making great strides in establishing yourself as an individual committed to open and equitable research and scholarship. Are you ready for your next step?
DATA!
That's right – the nitty gritty information, analyses, and code that your research is founded on and that enable your successful scholarship are also prime candidates for publication. But how? There are a plethora of paths you might select, and fortunately the MIT Libraries Data Management Services is here to help out with a number of community-supported resources and guidance on making good choices between them. (We are also available for consultations if you'd like to trek further down these winding ways).
 Your foundational resource for publishing information, analyses, code, and data associated with your scholarship and research is known as a research data repository. We are happy at the MIT Libraries to support an evolving ecosystem of repository options, and are particularly delighted with our two most recent additions: Dryad and the Qualitative Data Repository. These join our currently recommended research data repositories: Dataverse, ICPSR, OSF, Zenodo.

 Dryad
Dryad is a non-profit, community-owned data repository hosted by the California Digital Library that ensures published data are discoverable, freely reusable, and citable (https://datadryad.org/stash/our_mission). All content in Dryad is available for the public to view and download (CC0), free of charge, via an online interface, with a persistent digital object identifier (DOI). In addition to storage and access, Dryad also provides light data curation services, which include submission of associated code, scripts, and software packages to Zenodo. A unique characteristic of Dryad is its integration with a number of publishers' platforms and workflows, including  eLife, John Wiley & Sons, Inc, American Association for the Advancement of Science (AAAS), American Geophysical Union (AGU), Cambridge University Press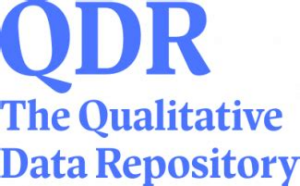 Qualitative Data Repository (QDR)
QDR specializes in curation, storage, and sharing of qualitative digital data and associated documentation. Having started in the social sciences field, QDR is structured to provide restricted and controlled access to published datasets, free of charge, and works intensively with each project on data curation, often starting at the Data Management Plan (DMP) stage. QDR is a CoreTrustSeal certified trustworthy data repository. We are a QDR member, and our membership level supports the intensive curation, storage, and access of five projects this academic year. A unique characteristic of QDR is its extensive resources and trainings on managing sensitive data, annotation for transparent inquiry, and teaching with data.
Both Dryad and QDR align with MIT's mission of "generating, disseminating, and preserving knowledge, and to working with others to bring this knowledge to bear on the world's great challenges" and the MIT Libraries Enduring Vision, on the following points:
We are a digital-first library committed to maximizing and expediting digital access to content and services.

We are relentless in our pursuit of a more open and equitable scholarly landscape that prioritizes inclusion and reduces the marginalization of scholars and scholarship from disadvantaged communities.

We democratize access to data, and provide expertise and advocacy to advance socially responsible computational research and learning.
We invite you to check out these excellent additions to the MIT Libraries' research data repository ecosystem, and to contact us with questions, concerns, or comments as you continue your journey towards more open and equitable scholarship and reproducible research.