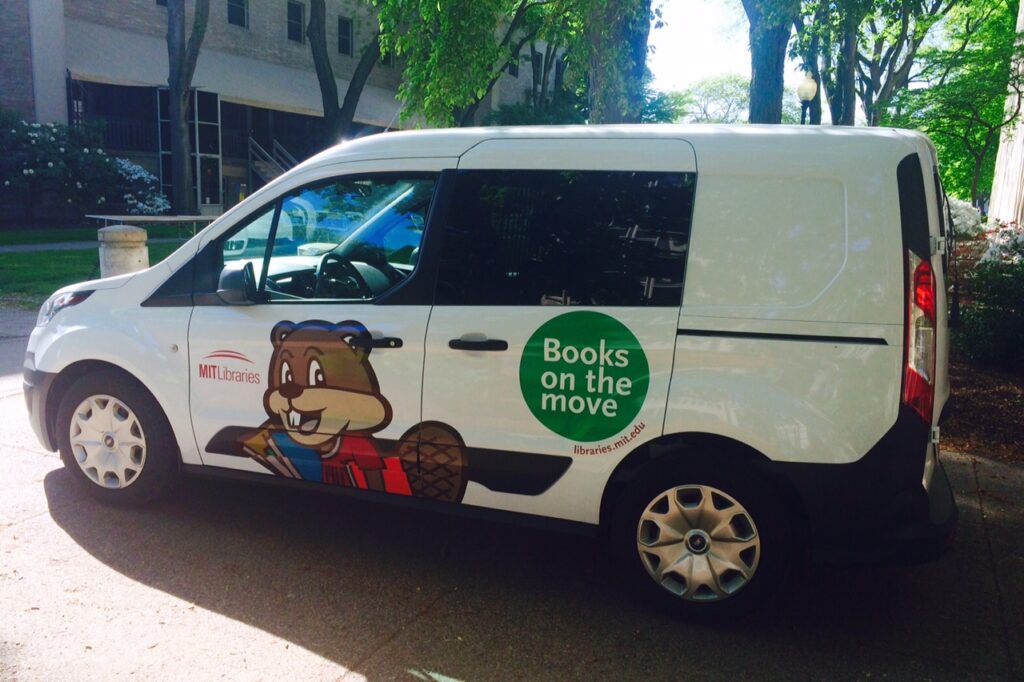 You heard that right. The MIT Libraries have a new ride, featuring Tim the Beaver! After a long, rough winter and many years of use, it was time to spruce up our wheels and retire our old van. We upgraded to a sleeker, size-efficient model to transport books around campus.
This van is a workhorse, shipping cartons of books, DVDs, CDs, and more between our libraries. Library books don't just sit on the shelves – they see a lot of traffic behind the scenes. We move hundreds of items between libraries, send them to Curation and Preservation Services for repair, place them on Course Reserves, and retrieve them from the Library Storage Annex.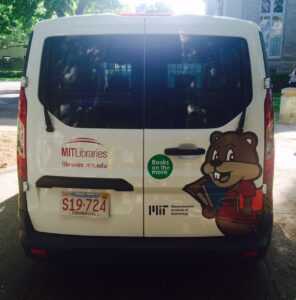 This undercover library highway is made possible by two dedicated library staff: Alyssa Maynard and Abby Wray, who serve as Delivery Assistants. Every day, Alyssa and Abby load and unload cartons into the van, drive through rain, snow, and dark of early morning hours, and hand-sort items to their destination. Their favorite features of the new van include air conditioning, extensive in-van shelving, and an auxiliary port for playing tunes.
Did you know that you can have books delivered from any of our libraries to your favorite library location? Look up the book you need in Barton, the library catalog, and click the "Request" button next to the title. You'll get an email when the item arrives. MIT Libraries' staff will be hard at work connecting you and your book, with trademark care, precision, and speed.