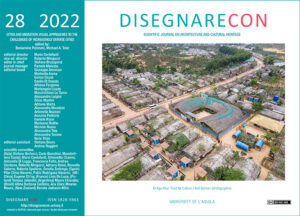 Beniamino Polimeni, Senior Lecturer in Architecture at the University of Hertfordshire and Michael A. Toler, ARCHNET Content Manager in the Aga Khan Documentation Center, have edited a new issue of DISEGNARECON, an Open Access Journal on Architecture and Cultural Heritage published by the University of L'Aquila in Italy.
The issue, Vol. 15, No. 28, also available on Archnet, includes 7 articles on the theme of "Cities and Migration: Visual approaches to the challenges of increasingly diverse cities," including two contributions by Polimeni and Toler, the introductory editorial and "On the Move: Michel Écochard, Migration, and Transdisciplinary Exchange in Urban Design."
The latter focuses on two projects by French architect and urban planner Michel Ecochard, the urban planning of Casablanca, Morocco and the planning of refugee housing in Karachi, Pakistan in the wake of the post-colonial partition of India and Pakistan. It draws on visual material in the architect's archive, transferred to AKDC by the Aga Khan Trust for Culture in 2017.