The Aga Khan Documentation Center at MIT (AKDC@MIT) and the Aga Khan Trust for Culture (AKTC) are pleased to invite you to explore the new iteration of Archnet, now available at next.archnet.org. ARCHNET NEXT, aka Archnet 3.0, is the first major revisioning since of the site since 2013, and only the second major update since Archnet was originally conceived in the late 1990s.
ARCHNET NEXT will be launched on October 12th. Current users of Archnet will be delighted to know that all resources will still be available on ARCHNET NEXT, and access URLs will remain the same. 
For example, the collection containing issues of  Muqarnas. An Annual on the Visual Culture of the Islamic World can be previewed on ARCHNET NEXT at https://next.archnet.org/collections/43 from now until October 12; then it will be available at its permanent URL:  https://www.archnet.org/collections/43, the same URL used to access the journal currently. The old website will be accessible at https://archive.archnet.org until  October 19th.
The fundamental principle that guided this revision can be summarized in two words: accessibility and usability.
Consistent with our mission to make resources available to those without access to large research libraries, ARCHNET NEXT will be more responsive to users in all corners of the world, and on all sorts of devices. A Globally Distributed Content Delivery Network positions content on servers that are closer to Archnet's end users, allowing for content to reach them without complicated routing across networks of servers. This will improve the experience for users on slower connections, including rural areas and in the developing world.
ARCHNET NEXT is also designed in conformity with W3C accessibility guidelines to allow equitable access for all visitors.
While Archnet will continue to deliver a first-class experience to desktop users, it has been designed to work equally well on tablets and mobile phones. Mobile users can find their way to sites near them by using the "Near Me" to locate nearby sites, both historic and contemporary.
New browsing features will make it easier for all users to get to sites, authorities and collections directly from the home page. Quick filters and a robust search engine allow users to find precisely what they are looking for more quickly and easily.
ARCHNET NEXT was developed in collaboration with Performant Software Solutions LLC, based in Boston, MA and Charlottesville, VA. Specialized in Digital Humanities projects, the firm updated the back end and front end technologies to greatly increase the efficiency with which Archnet can process queries of the Archnet database, now the largest online library focused on the built environment of Muslim societies.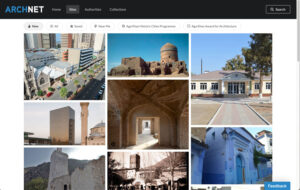 We continue to improve Archnet to better serve our users. Accordingly, we welcome your comments and feedback, which can be sent directly through the Feedback button at the bottom of all pages. Users can use this button to request features or to report bugs.
Archnet is an Open Access, scholarly resource focused on architecture, urbanism, environmental and landscape design, visual culture, and conservation issues, particularly as they relate to societies in which Muslims are or have been a significant cultural presence. Our mission is to provide ready access to unique visual and textual material to facilitate teaching, scholarship, and professional work of high quality.
For additional inquiries contact: archnet@mit.edu.