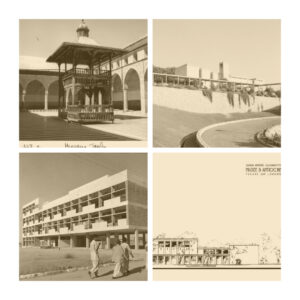 Architect, archeologist, and urban planner Michel Écochard (d. 24 May 1985) would have been 115 on March 11, 2020! 
Écochard's career began in 1932 when he was assigned to the Antiquities Service in Syria where he participated in the restoration of numerous historic monuments.  Simultaneously, he served as a consulting architect to the Syrian government.  It was during this period that he designed the Antioch Museum in what is now Antakya, Turkey.  and in 1940 became Director of Urban Planning. He documented this period in albums he compiled on historic sites in Damascus, Aleppo, and across Syria.
In 1946 he became Director of Urban Planning in Morocco where he drew up development plans for Rabat-Salé, Casablanca, Beni Mellal and other cities.
In 1955, he opened a private agency in Paris, and it is this period that is best represented on Archnet.  Among the firms projects were the urban development of Dakar (1963-1967), Damascus (1964-1968), Beirut (1961-1963), Tabriz (1966-1968), a new capital for the Sultanate of Oman (1973), and housing for refugees near the Pakistani capital of Karachi.
Notable architectural projects of the practice include the the Museum of Mohenjo Daro, Pakistan (1958); the Hôpital du Sacré-Cœur in Baabda, Lebanon (1962); the Chancellery of the Embassy of France in Yaounde, Cameroon; the Kuwait National Museum; and numerous other projects around the world.
He is a Laureate of the Aga Khan Award for Architecture for his work on restoring the Azem Palace.  Écochard donated his archive to the Award shortly before his passing. In 2017 they were transferred to the Aga Khan Documentation Center, MIT Libraries.  Learn more about the collection by exploring selections available on Archnet.