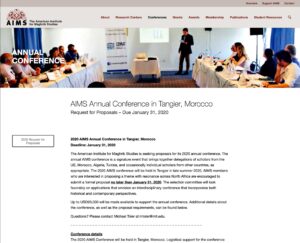 AKDC Interim Program Head and Archnet Content Manager Michael Toler has volunteered to chair the conference committee for the American Institute for Maghrib Studies (AIMS).
The main purpose of the committee is to evaluate proposals to organize the annual AIMS Conference, which rotates each year between one of the AIMS centers in Oran, Algeria, Tunis, Tunisia, and Tangier Morocco, where this year's conference will be held.
The AIMS conference is a signature event that brings together delegations of scholars from the US, Morocco, Algeria, Tunisia, and occasionally individual scholars from other countries. The 2020 AIMS Conference will be held in Tangier, Morocco. Logistical support for the conference will be provided by the staff of the Tangier American Institute for Moroccan Studies (TALIM) and AIMS Program Manager located in Tangier.
Proposals on any theme of relevance to North African Studies are welcome. Conferences typically take place over two days and include 15-20 participants. The 2020 conference will take place in late July 2020. AIMS members who are interested in proposing a theme with resonance across North Africa are encouraged to submit a formal proposal no later than January 31, 2020.
Other members of the committee are Quinn Mecham, Associate Professor of Political Science at Brigham Young University, and Chouki El Hamel, Professor of History at Arizona State University.
More information on the conference, guidelines for potential organizers, and the proposal submission form are available here.