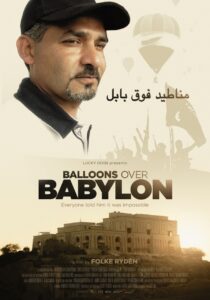 The Center for Arabic Culture and the Aga Khan Documentation Center, MIT Libraries, will screen Balloons Over Babylon on Saturday, January 11, 2020, 6 PM – 9 PM in Room 3-133 of the MIT campus. The film is part of the "One Voice, Endless Change" film series for Spring 2020.
Balloons Over Babylon tells the story of Murtada al-Hachami,  one man's quest to fight terrorism and promote peace and love by flying hot air balloons over his war-torn country."
The screening will be followed by a panel discussion with Folke Rydén, the Director; Murtada al-Hachami, the subject of the film; Dr. Muhamed Almaliky of Harvard's Weatherhead Center for International Affairs, and Dr. Kanan Makiya, writer, Senior Fellow of the Crown Center for Middle Eastern Studies, and Professor Emeritus at Brandeis University.
The screening is free and open to the public. RSVP here.
Balloons over Babylon – Trailer (2019) from Folke Rydén Production on Vimeo.