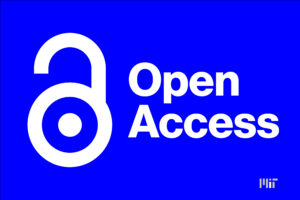 The ad hoc task force on open access to MIT's research has released "Open Access at MIT and Beyond: A White Paper of the MIT Ad Hoc Task Force on Open Access to MIT's Research," which examines efforts to make research and scholarship openly and freely available. The white paper provides a backdrop to the ongoing work of the task force: identifying new, updated, or revised open access policies and practices that might advance the Institute's mission to share its knowledge with the world.
Co-chaired by Class of 1922 Professor of Electrical Engineering and Computer Science Hal Abelson and Director of Libraries Chris Bourg, the task force was convened in July 2017 by Provost Martin Schmidt, in consultation with the vice president for research, the chair of the faculty, and the director of the libraries. The group was charged with exploring actions MIT should undertake to "further the Institute's mission of disseminating the fruits of its research and scholarship as widely as possible."
"The MIT community has long been at the forefront of sharing knowledge with the world, whether through OpenCourseWare or our campus-wide faculty open access policy," says Chris Bourg. "The task force is looking to see how we can expand that commitment even further, considering how to share not only scholarly articles and books, but also data, educational materials, code, and more."
Read more about the paper in the MIT News. The report is available as a PDF on the OA task force website, and in HTML on PubPub.
The MIT community is invited to offer ideas of new, updated, or revised policies or practices that might further the sharing of the Institute's research and scholarship as widely as possible. Ideas can be submitted via the task force idea bank, at upcoming community forums (details forthcoming), or via email to the task force.