In our 2015 survey we sought to understand which spaces offered by the Libraries were best serving the MIT community as well as to identify space needs that are not being met. While many who responded to the survey expressed approval and appreciation of our current offerings, there were many types of space that users had trouble finding on campus and hoped that the Libraries could help to provide.
Students who responded noted that they most needed spaces that allowed them to be loud in private, with 49 percent requesting a space to conduct an interview and 44 percent looking for a space to make a private phone call. Forty-two percent of student respondents noted that they sought space in which they could practice or record a presentation. Faculty respondents indicated slightly different needs, with 29 percent expressing a desire for space in which they could have meetings with large group.
According to the survey, MIT students are seeking spaces where they can: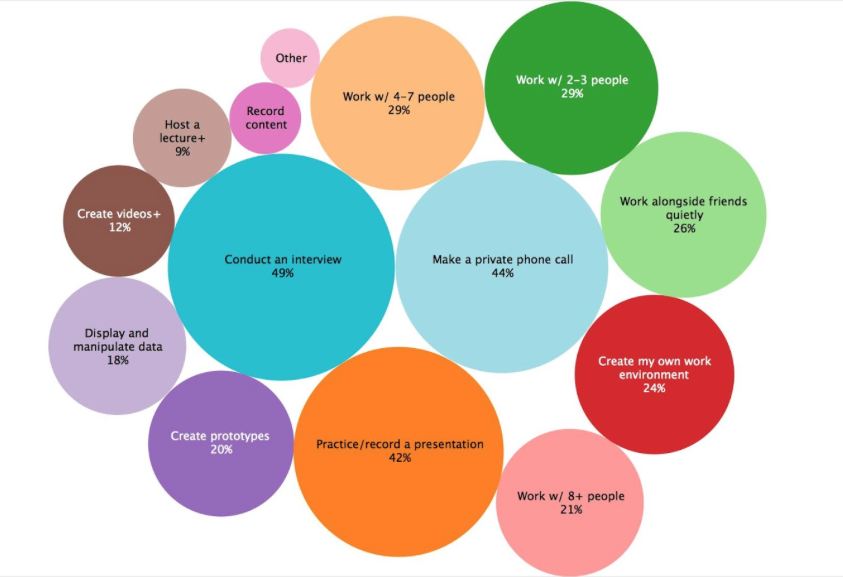 Currently, the Libraries have group meeting spaces available in Barker, Dewey, Hayden, and Lewis. Explore our general overview of available library spaces, and learn how to reserve them online.
Want to share your thoughts on the services and space the Libraries should provide the MIT community? Be part of the conversation on the Future of Libraries: Contribute to our idea bank.