As part of an effort to provide information about new open access requirements that are emerging from the White House Directive on "Expanding Public Access to the Results of Federally Funded Research," the MIT Libraries will be tracking each agency's requirements on a new web page.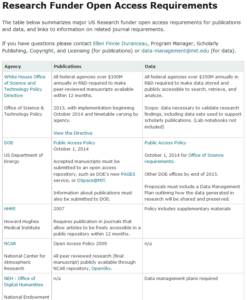 The requirements of the Department of Energy, the first agency to release its Public Access Plan, are included, as are other existing policies, such as the NIH Public Access Policy, as well as the NSF's existing policy on data management plans.

US federal agencies with more than $100 Million annually in R&D will be issuing their open access requirements in coming months, and those policies will be summarized on this web page as details become available.
If you have questions about open access requirements:
For publications, contact Ellen Finnie Duranceau, Program Manager, Scholarly Publishing, Copyright, and Licensing, MIT Libraries
For data, contact datamanagement@mit.edu.

This news is being shared in celebration of International Open Access Week.