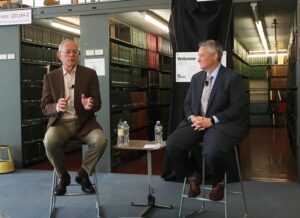 MIT President L. Raphael Reif visited the MIT Libraries on August 14 to meet with the staff and answer questions about MIT's priorities, challenges, and opportunities. The entire Libraries staff was invited to meet Reif during an informal reception before the president sat down with Libraries Director Chris Bourg to discuss some of the issues currently on his mind.
Reif discussed the strongly positive reaction he has received to his recent New York Times op-ed, which urged a more farsighted U.S. response to China's ambitious national strategy to dominate cutting-edge technologies. "I got phone calls and emails from just about everyone you can think of," said Reif. "They are all trying to figure out 'what do we do now?'" The president is currently considering what role MIT should take in this conversation and is certain that people representing government, universities, and industry need to be at the table.
Bourg asked Reif about his thoughts on artificial intelligence (AI), concerns for the future, and hopes for MIT's role in its evolution. "AI will have tremendous influence in the world to come. It is happening already," said Reif. He discussed the Task Force on the Work of the Future and the MIT Quest for Intelligence, both launched earlier this year, as ways the Institute can help prepare our society for this new world.
"I think it's very important that MIT plays a key role developing that new world, and in educating the people that will develop that technology, so that it can be developed in a way that is assisting our society, as opposed to dominating our society," said Reif.
Finally, Reif addressed the sense of community and inclusion at MIT and his aspirations to create a culture where students can both find a place where they belong and be exposed to people different from themselves.
While Reif acknowledges there is more to be done, he thinks the sense of community, caring, and openness at MIT has made a lot of progress. He cited Portraits of Resilience, Daniel Jackson's book of photos and stories that share the experiences of people coping with depression and anxiety, and the MIT and Slavery project, which invited undergraduate students to conduct original research in the Institute Archives on MIT's ties to slavery. Co-taught by Craig Steven Wilder and the Archives' Nora Murphy, MIT and Slavery has opened a community-wide dialogue about the legacy of slavery.
Bourg noted that, "It was a real treat for the Libraries' staff to have the opportunity to hear directly from President Reif on the topics that are important to him and important to MIT. I know we all appreciate his taking time out of his busy schedule to spend time with us."