The MIT Libraries Department of Distinctive Collections is excited to announce a new offering of old technology! Distinctive Collections now makes available digital media transfer kits for use in their reading room for transfer of personal digital files from obsolete or hard-to-access storage media technology, such as floppy disks, Zip disks, and internal hard drives onto their present-day machines. Take a look at the guide for all the options that are offered and then request the device you would like to use.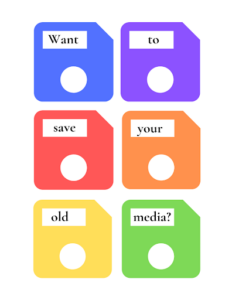 Interested users can make an appointment to use the devices for their own personal records by contacting Distinctive Collections. Currently, the kits can be used in person in the Distinctive Collections Reading Room (14N-118) during regular hours, typically Monday-Thursday, 10am – 4pm. Kits are available on a daily basis for up to four days in a row. Please check the calendar available at the guide linked above if you would like to see when a kit is reserved.
Digital media is unfortunately short lived and degrades over time. Keeping your personal digital records in a shoebox in the attic or under your bed is not a sufficient strategy if you still want to view them again even in 10 years. However, computer companies have stopped including devices to access this storage media with their products, and they are often hard to find or acquire. The devices offered by Distinctive Collections will allow users the means to maintain access to their important datasets, past writing and work, and personal memories of friends and family.