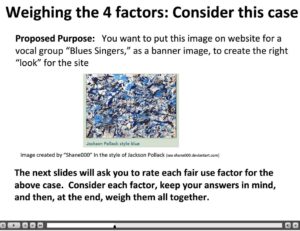 The MIT Libraries' Office of Scholarly Publishing, Copyright, and Licensing has launched an online Fair Use Quiz to help students better understand the core concepts of copyright law's "fair use" provision, the flexible — but notably ambiguous — exception under US copyright law that makes it possible to use others' copyrighted works without permission. The aim of the quiz is to put information about fair use in the hands of students and empower them to make informed decisions about using copyrighted works.
The self-guided quiz, which also covers the basics of copyright and addresses website "terms of use," takes only about 10 minutes to complete. It walks through four cases, including use of images and data in several scenarios.
The quiz can help students answer questions such as whether it's possible to use a figure from a scholarly journal in a thesis, or whether a particular image can be uploaded to a class blog. Is there one correct answer for these questions? Probably not: Applying fair use can be complex, but the quiz attempts to give students the tools to make their own assessments.
Earlier this year, we got feedback from undergraduate and graduate students on a beta version of the quiz and adapted it accordingly. If you have any comments, please email copyright-lib@mit.edu, or contact any of the staff in the Office of Scholarly Publishing, Copyright, and Licensing. We would very much appreciate hearing from you.
---