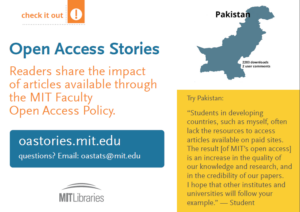 There's a new way to hear the voices of readers from around the globe who have benefited from access to articles shared through the MIT Faculty Open Access Policy.
This week, in honor of International Open Access Week, the MIT Libraries launched a new website with an interactive world map showing reader comments and article download data.  The comments demonstrate the wide-ranging and powerful impact of making MIT's research openly accessible.
Comments include:
"I am an Argentine economist, who … teaches and researches at a public university. Open access for us is the difference between access and no access at all. Open access democratises access to academic research around the world. Many thanks."
"I greatly appreciate the access to your research. It's very frustrating to find most papers behind paywalls, even when the research was supported by tax dollars."
"I work in a small but growing humanities department in the Baltic, with limited institutional resources. Your implementation of open access enables me to design curriculums that include publications … that we would otherwise not have access to. [This enhances] the learning experience of our students, introducing them to the work of scholars on the cutting edge of the discipline. Thank you!"
This new service is being released in celebration of International Open Access Week. To read more comments, visit oastories.mit.edu.
Please email your questions or comments about this new service to oastats@mit.edu.
Ellen Finnie Duranceau, Program Manager, Scholarly Publishing, Copyright & Licensing, MIT Libraries