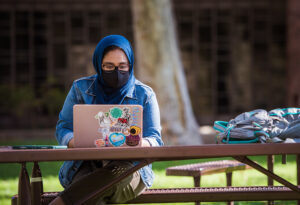 The MIT Libraries have begun a major project to replace the system that supports our website and implement a new user interface for searching, browsing, and using our collections. Guided by our vision for a digital-first library and driven by the need to provide the MIT community with a more seamless experience searching our collections, we are expecting to go live with Ex Libris' Alma library services platform and Primo user interface in mid-July 2021.
The goal of the project is to give our users a more intuitive and integrated search-and-browse experience and more relevant results when navigating our collections. Longstanding Libraries tools — including the Barton classic catalog, BartonPlus, and Vera — will be replaced with a single, cohesive search interface, connecting our users more efficiently with the resources they need.
"Our teams have been working hard for over a year now on the planning, prep work, design, training, and systems-level implementations needed to complete this project," says Associate Director for Technology Heather Yager. "We are excited to provide the MIT community with a smoother experience and greater level of functionality when navigating our collections, and we look forward to working with the community to innovate atop this new platform once we get up and running."
In addition to improving the user experience, the migration to Alma and Primo lays the groundwork for future digital initiatives in the Libraries and enables us to grow our collaborations with other academic libraries, thanks to the adoption of data standards such as Bibframe, a data model for bibliographic description, and Linked Open Data. Likewise, the new platform equips us to continue building out our support for finding and using images, video, and audio, integrate with other collections at MIT, and explore richer integration with scholarly and cultural heritage collections beyond MIT.
As we get closer to our mid-July launch date, we'll be sharing updates here on the MIT Libraries news page. In the meantime, you can contact us with any questions at alma-feedback@mit.edu.