MIT is part of a partnership agreement called BorrowDirect Plus that allows community faculty, students, and staff to access library spaces and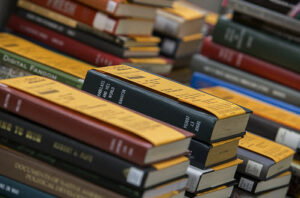 borrow materials from participating academic libraries.
The following institutions are members of BorrowDirect Plus:
Visit any of the above to enroll for access and borrowing. When you visit one of the BorrowDirect Plus libraries, you'll be asked to present your MIT ID and log into the BorrowDirect system to verify your current MIT affiliation. When you verify, DUO authentication is required. Please have your mobile phone set up with DUO or a USB token (YubiKey) with you.
Consult the the access policies and borrowing privileges of each library, where you can confirm the hours of operation, participating locations, and loan periods. You can also search BorrowDirect ahead of time, to confirm that the partner library has what you need.