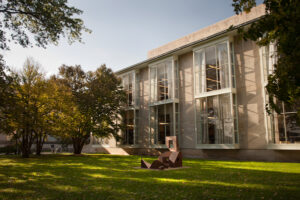 Hayden Library Renovation Enters Pre-Design Phase
The Libraries are working with Kennedy Violich Architects (KVA) on the pre-design phase of planning for a proposed renovation of Building 14. Planning will focus on changes that would have the highest impact for the community and especially for students, such as community gathering/event space, group and collaborative workspace, expanded 24-hour study areas, classroom/learning spaces, and shared space with School of the Humanities, Arts, and Social Sciences. KVA, whose principal Sheila Kennedy is on the faculty in MIT's Department of Architecture, have a well-earned reputation for designing creative, beautiful, and sustainable spaces and have a deep understanding of the Institute and its community. Their current and recently completed projects include the Tozzer Anthropology Building and Schlesinger Library at Harvard University and the North Bennet Street School in Boston.
Libraries Welcome First Visiting Scholar
The MIT Libraries announces its first-ever visiting scholar this fall, an initiative that emerged from the Grand Challenges Summit and the Future of Libraries Task Force recommendation that MIT establish a research agenda in information science and scholarly communication. With support from the University of Arizona, the Ohio State University, the University of Pittsburgh, and UCLA, the Libraries will host Philip Cohen, a professor of sociology at the University of Maryland, College Park, whose research concerns demography and inequality. Cohen will collaborate with MIT Libraries Research Director Micah Altman and others on research frameworks for open scholarship.
MIT Reads Partners with Black Students' Union
MIT Libraries is partnering with the MIT Black Students' Union (BSU), which celebrates the 50th anniversary of its founding this year, for the fall 2018 MIT Reads selection, Dawn by Octavia Butler. The visionary science fiction writer, known for creating strong protagonists who were often black women, explored "far-reaching issues of race, sex, power and, ultimately, what it means to be human" (New York Times). This is the third year of MIT Reads, an Institute-wide reading and discussion program that partners with campus groups to choose a book for the MIT community to read and explore through small group conversations, panel discussions, and author events.