Photographic Archive Comes to MIT
The Aga Khan Documentation Center (AKDC) at MIT is now the home of the Kamil and Rifat Chadirji Photographic Archive. Kamil Chadirji played a central role in the political life of lraq as founder and President of the National Democratic Party, a position that allowed him unique opportunities to take photographs throughout Iraq. Kamil's son, Rifat Chadirji, known as one of the most influential Iraqi architects of the 20th century, was also an accomplished photographer, author, teacher, and critic. Together, their vast collection spans more than five decades and contains approximately 100,000 negatives and images documenting the Middle East, primarily Iraq. The collection illustrates daily life, cultural engagement, and social conditions in the Middle East from the 1920s to the 1970s. This important record also provides a unique look at the significant transformation of Baghdad's built environment over time. The entire collection has been given to the AKDC through a gift from the Chadirji family. As with all archives given to AKDC, the collection will be digitized and made available to scholars, students, and researchers at the center and via the research portal archnet.org.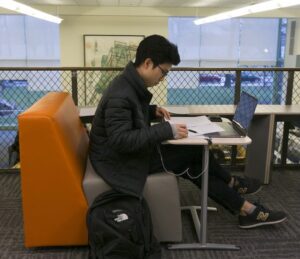 New Art and Furniture Refresh Library Spaces
The Libraries have been working with the MIT List Visual Art Center to select and install a variety of works from the List collection that create a more inclusive environment in library spaces. Twenty works have been hung in Hayden Library, including a series of photographic portraits of jazz artists by Herb Snitzer, a photograph from the Doc Edgerton collection, a woodcut depicting Toni Morrison, and many more photographs, prints, and paintings, including abstract work. A series of photographs was installed around the perimeter of Barker Library's fifth floor; the 20 black-and-white photographs provide a snapshot of life at MIT in 1986, capturing people at work across the Institute. The Libraries will continue to work with the List to install artwork in additional library spaces. New furniture in Hayden Library is also helping to create more comfortable, flexible study spaces. The center mezzanines of the first and second floors have been outfitted with a variety of desks and comfortable seating which users are welcome to rearrange to suit their needs.
Libraries Show Longstanding Support for Diversity in Library and Archives Workforce
What began in 2010 as a meet-and-greet event for students and MIT Libraries staff has evolved into an enduring partnership with the Association of Research Libraries (ARL) to increase diversity within the profession. In February, the Libraries marked nine years of official sponsorship of the ARL Leadership Symposium; its participants include master of library and information science (MLIS) students from ARL's diversity recruitment programs, the Initiative to Recruit a Diverse Workforce, and the ARL/Society of American Archivists Mosaic Program, and undergraduate students from the Fellowship for Digital and Inclusive Excellence. Over the years, MIT staff have participated in several of the symposium sessions, served as resume reviewers for the job search skills portion of the program, and sponsored an evening social event every year. The reception is one of few opportunities that the scholars have as a full group to get to know one another. "It's a tremendous commitment that [the Libraries] have made," says ARL Diversity Programs Director Mark Puente. "What it adds to our events is truly invaluable."