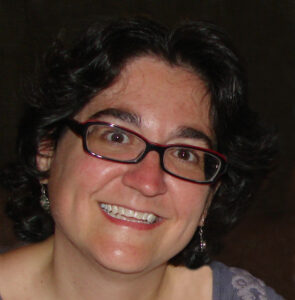 In May, the Libraries welcomed Erin Stalberg as the new associate director for Collections. Previously the director of Discovery and Access at Mount Holyoke College's Library, Information, and Technology Services, Stalberg provides strategic leadership for general and distinctive collections in support of MIT's local and global mission. She recently told Bibliotech about starting a new job under unusual circumstances and the role of collections in an uncertain future.
You had the unusual experience of starting at the MIT Libraries during a pandemic, with the whole staff working remotely. How has that been?
The experience has been interesting and exciting and disquieting all at the same time, to be honest! There have actually been a few advantages, which might sound surprising. For one, everybody on Zoom is wearing a nametag, which I have found to be incredibly helpful. For another, this situation is odd for everyone. It is always hard to be new in an organization, but the remote situation has, in some ways, leveled out that feeling. On the other hand, what I have been calling the "Zoombox" is—obviously—very two dimensional. It is hard to glean information indirectly in the Zoombox, and relationship building is challenging. Everybody, however, has been incredibly welcoming and encouraging, and we will all remember this period for a very long time.
You have said you were drawn to the Libraries in part because of the idea of "the library as platform." What does that mean to you?
Over the course of my career, I have been immersed in efforts to extend the access and reach of library systems and to open our collections to new uses and possibilities. In the early part of my career, this was making sure our collection descriptions 11 (our metadata) were interoperable between disparate software platforms so that users can start their research at one place and discover related collections that we hold in other places. Increasingly, that is about enabling users to find library materials as they are searching on the open web, through Google, Wikipedia, and other widely used web applications.
"Library as platform" is so exhilarating to consider in the trajectory of that work because MIT's focus on the computational library extends those goals beyond discovery of metadata about collections to imagining interactive uses of the content in those collections. How do we make content of traditionally siloed and static library collections available to computational tools in ways that will facilitate researchers' ability to solve problems at increasing scale?
"Library as platform" means to me that we can no longer think of collections and technology as disparate organisms. Collections are themselves a technology for furthering teaching and research. We must develop both a content and technology infrastructure that will enable users to interact with those collections computationally and humanistically, to build on the content contained deep within those collections, and to return their research output as building blocks of new content for the next teaching and research enterprise.
One of the first things you did in your new role was contribute to MIT Libraries' Vision: A New Urgency, which called for "a laser-sharp focus on collections, services, and technology with maximum and inclusive impact." How do you see that shaping your leadership of Collections?
One of the things that the pandemic made obvious the minute we all left campus was that our long-curated, long-invested-in physical collections provide neither maximum nor inclusive impact for our communities. Our physical items are accessible only to one person at a time in a fixed location. And those fixed locations were for many months in unstaffed buildings behind locked doors. E-books, e-journals, other digital collections have presented so many challenges to libraries over the years —including escalating budgetary impacts, inadequate vendor business models, refusal of some publishers to sell e-content to libraries, the disenfranchisement of publishing communities in the Global South, accessibility challenges, and more. For our archival collections, challenges have included insufficient capacity to digitize physical collections at scale and the expense of appropriate technology to create, deliver, and preserve our own locally created digital content.
We (in libraries worldwide) have been holding our physical collections as antidotes to all of these challenges, even while growing our digital content as we could. It is now clear to us that these antidotes have their own severe set of limitations. As I said, I see collections as a technology for furthering the teaching and research enterprise. For those collections that must be physical to achieve teaching and research goals, those are our essential physical core. For the rest, we need to aggressively take on the challenges before us and work our way through them for maximum and inclusive impact.
What are you most looking forward to about living in Cambridge?
I am looking forward to city life. I grew up in Philadelphia, which shares much in common with Boston, and I am looking forward to city energy and culture. I have a dog, however, who is very much not looking forward to city life. I'm taking recommendations for quiet, unpopulated, no-bikes-no-trikes-no-skateboards-no-children dog walking paths!