Chris Bourg arrived in Cambridge in the middle of the snowiest winter on record. The fact that MIT was closed due to 20+ inches of snow during the first two days of her tenure, did not deter the Libraries' new director.
"It would take an extraordinary organization, and an extraordinary set of people to tempt someone to move from Palo Alto, California where it's 73 degrees right now," Bourg said at a staff reception in early February. "THIS is that kind of organization. I'm excited to be here, and I know we will do great things together," she said to resounding applause.
Bourg came to MIT from Stanford University Libraries where she served in various roles over the past 12 years, most recently as associate university librarian for public services. She was a sociology grad student at Stanford when a part time job as a statistical software consultant at the Libraries gave her the opportunity to work with subject librarians and students.
"I kind of fell in love with it," Bourg said. "I realized I could have more of an impact working in libraries than as an individual scholar."
She talks about the match with libraries as the culmination of her experience. She was a first generation college student who attended Duke University on an ROTC scholarship. After Duke she spent the first ten years of her career as an officer in the United States Army, including three years on the faculty of the United States Military Academy at West Point.
"Being a leader in research libraries allows me to bring to bear all the experience I gained as an officer in the US Army, as a faculty member at West Point, as well as the scholarly expertise I gained from my PhD program. Combining that experience with the values and passion I have for the transformative potential of higher education is incredibly rewarding in a career," she said.
While Bourg is still getting to know MIT, she already feels the Institute is a natural fit for her.
"MIT is the kind of place that embodies my values–openness, transparency, meritocracy, striving to do the right thing, not just by their students, but by the whole community," she said.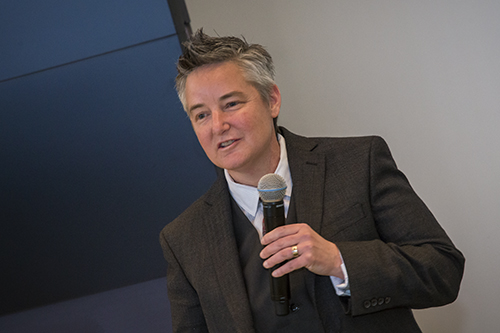 In her new role Bourg will lead the MIT Libraries and the MIT Press at a pivotal time when library services are evolving, and changes in scholarly communication and digital publishing are impacting both libraries and publishers.
"A good leader facilitates individuals and groups to do great work that has meaning for them," she said. "Authenticity and passion are really important too."
Bourg's passion for libraries comes through in the potential she sees for the Libraries to collaborate with researchers in new ways.
"Libraries have always been a place for discovery, but there are ways to make our resources more available to more people," she said.
Bourg wants to get to know MIT students too. She plans to attend Furry First Friday study breaks, hold open office hours, and catch a few MIT sporting events. She's a sports fanatic with a fondness for Duke Basketball, and the San Francisco Giants, evident by the framed Sports Illustrated covers adorning her office walls.
In her first year Bourg will spend time working on a new strategic plan, a plan she said will be, "big and bold." With library renovations on the horizon, she's interested in finding out how the Libraries can fill under-met needs, and create a shared vision with the MIT community.
In her words, "We're MIT, we aspire to do something that will be a model for other libraries."