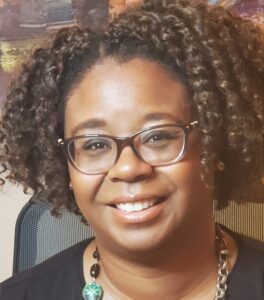 Alexia Hudson-Ward has been named the Associate Director for Research and Learning, the MIT Libraries announced today. Reporting to Director Chris Bourg, the Associate Director is part of the senior leadership team of the Libraries and will have responsibility for providing strategic leadership for the community-facing service portfolio of the Libraries and its full range of core and emerging services that support research and learning at MIT.
"All of us at the MIT Libraries are incredibly excited to welcome Alexia Hudson-Ward," says Bourg. "She brings a track record of transformative leadership, a deep understanding of the unique needs of a learning community like MIT, and a passionate and principled approach to librarianship that's grounded in accessibility, diversity, equity, and inclusion. I'm thrilled we will be working together to advance our vision for research and learning."
Since 2016, Hudson-Ward has been the Azariah Smith Root Director of Libraries at Oberlin College, where she re-envisioned one of the nation's oldest liberal arts college library systems. As a result, the libraries were ranked as the college's top performing administrative unit in 2018. She oversaw the first library restructuring process, garnered tremendous successes in fundraising, grantsmanship, and external collaborations, convened and chaired the libraries' first diversity, equity, and inclusion (DEI) task force charged with libraries-wide integration of DEI practices, initiated a visual literacy program, and created a humanities laboratory within the Main Library, among other accomplishments. Hudson-Ward also spearheaded the naming of the Main Library after Oberlin alumna Mary Church Terrell, one of the first Black women to earn a college degree in the United States and co-founder of the NAACP.
Hudson-Ward previously worked at Penn State, the Camden County Library System, West Chester University of Pennsylvania, and Temple University. Prior to her transition into academia, Hudson-Ward was an award-winning entertainment journalist and a marketing manager for the Coca-Cola Company's Foodservice Division. She received a BA from Temple University and an MLIS from the University of Pittsburgh and is a doctoral candidate in Managerial Leadership in the Information Professions at Simmons University. Hudson-Ward serves as a Board member of LYRASIS, The Center for Research Libraries and The Conversation U.S. edition. She has also held several leadership roles within the American Library Association including serving on its National Executive Board (2012-15) and as Chair of the Association of College and Research Libraries' College Libraries Section (2019-20).
"It is an honor to join MIT Libraries at this incredible time in the history of our world, higher education, and academic libraries," said Hudson-Ward. "Under the leadership of Chris Bourg, MIT Libraries has a track record of excellence and is a leading voice within our profession. The pandemic will forever reshape how we engage and invite people into meaningful and principled dialogue and work on the importance of open access and a more inclusive computational future. MIT Libraries is the best place to address these significant challenges dynamically through strategy development and implementation frameworks. I look forward to partnering with the Research and Learning team and the MIT Libraries Leadership Team to build upon their existing excellence and co-lead the development of new practices and processes that align with the Libraries' and the Institute's missions."
Hudson-Ward, who begins her appointment in the fall, will lead the departments of Information Delivery and Library Access; Liaison, Instruction, and Reference Services; and Data and Specialized Services as well as the Libraries' community engagement program. Hudson-Ward was selected from a highly competitive pool of candidates as part of a nationwide search led by Mo Lashendock and Kristine O'Brien at Koya Leadership Partners.