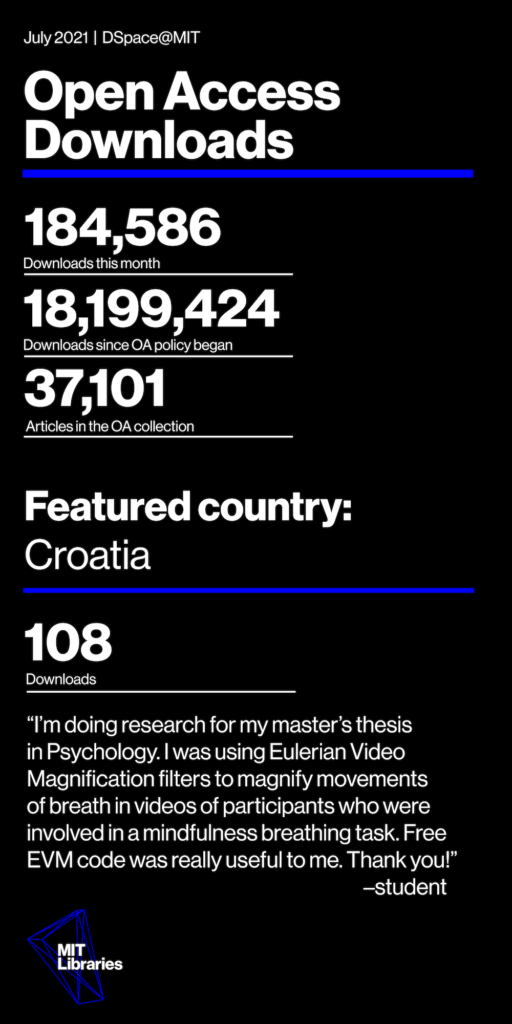 The Open Access Collection of DSpace@MIT includes scholarly articles by MIT-affiliated authors made available through open access policies at MIT or publisher agreements.
Each month we highlight the month's download numbers and a few of the most-downloaded articles in the collection, and we feature stats and comments from a particular country.
See your own download statistics or those of a particular MIT department, lab, or center.
Top downloaded articles for July:
Ecosystem Interactions Underlie the Spread of Avian Influenza A Viruses with Pandemic Potential, Justin Bahl, Truc T. Pham, Nichola J. Hill, Islam T. M. Hussein, Eric J. Ma, Bernard C. Easterday, Rebecca A. Halpin, et al.
How RO membrane permeability and other performance factors affect process cost and energy use: A review, Yoshiki Okamoto and John H.Lienhard
Hyperactivation of sympathetic nerves drives depletion of melanocyte stem cells, Bing Zhang, Sai Ma, Inbal Rachmin, Megan He, Pankaj Baral, Sekyu Choi, William Gonçalves, Yulia Shwartz, et al.
Questions or comments? Email us: oastats@mit.edu