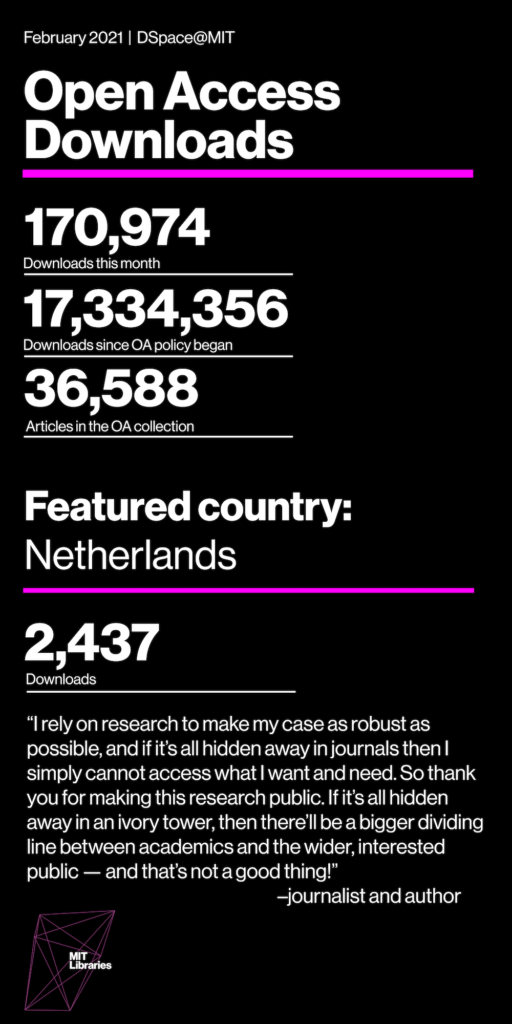 The Open Access Collection of DSpace@MIT includes scholarly articles by MIT-affiliated authors made available through open access policies at MIT or publisher agreements.
Each month we highlight the month's download numbers and a few of the most-downloaded articles in the collection, and we feature stats and comments from a particular country.
See your own download statistics or those of a particular MIT department, lab, or center.
Top downloaded articles for February:
Natural language based financial forecasting: a survey, Frank Z. Xing, Erik Cambria, Roy E. Welsch
Imaging the Schwarzschild-radius-scale Structure of M87 with the Event Horizon Telescope Using Sparse Modeling, Kazunori Akiyama, Kazuki Kuramochi, Shiro Ikeda, Vincent L. Fish, Fumie Tazaki, Mareki Honma, Sheperd S. Doeleman, et al.
Cute Cats to the Rescue? Participatory Media and Political Expression, Ethan Zuckerman
Questions or comments? Email us: oastats@mit.edu