About Dewey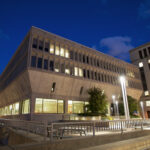 Dewey Library (E53-100) – Hermann Building
Mailing address:
77 Massachusetts Ave., E53-100
Cambridge, MA 02139
Street address:
30 Wadsworth Street

Architect: Eduardo Catalono
Built: 1965
Named after: Davis R. Dewey (1858 –1942), former MIT Economics professor, department Chairman (1893-1933) and Chairman of the MIT Faculty (1911-1913).
The Dewey Library is located on the east end of campus, inside the Hermann Building. It is the primary library for MIT's Sloan School of Management, the Department of Economics, and the Department of Political Science. Renovated in 2009, the first floor has large windows with ample natural light and a variety of seating. The upper and lower floors house collections, group study rooms and quiet study areas.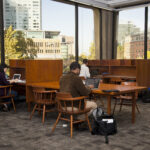 Study space and technology:
twelve bookable group study rooms
a 24/7 study area
over 200 spots for quiet study spread throughout the building
a "KIC" scanning station
Conveniently located near the Sloan School and Kendall Square – a study break snack is never far away!
Collections:
Dewey's collection covers the areas of management and social sciences.
Extensive collection of economic and social statistical series in various formats.
Includes "Impulse Borrowing" collection of popular titles in management and social science.
Fun fact:
The Dewey Library Hermann Building is an example of "Brutalist" architecture. The architect, Eduardo Catalano, also designed the Stratton Student Center. Catalano taught at MIT from 1956-1977.