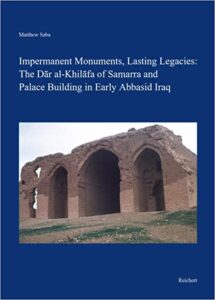 Impermanent Monuments, Lasting Legacies: The Dār al-Khilāfa of Samarra and Palace Building in Early Abbasid Iraq, by AKDC Visual Resources Librarian Matthew Saba, has recently been released by Reichert Publishing. The book, available in electronic or print format, was developed from Saba's dissertation research offering a new interpretation of the palaces built by the Abbasid dynasty of Iraq at the apex of its political power from 750 to 900 A.D. As a case study, it focuses on the palace known as the Dār al-Khilāfa (Abode of the Caliphate), constructed in the city of Samarra, founded by the Abbasids in 836 and used as a capital until 892.
Early Abbasid palaces like the Dār al-Khilāfa are known for their massive footprints, elaborate floorplans, and dizzying array of carved and painted decoration on the one hand, and for their speedy construction, uneven quality of building materials, and brevity of courtly occupation on the other. This study argues that these traits are not contradictory, but rather reveal a concept of monumentality emic to their era in which the long-term physical permanence of the building was not assumed. Rather, such palaces, conceived by their patrons and architects as "impermanent monuments," were designed to create legacies of imperial power through the performative act of construction itself, the presentation of the finished product to select audiences during spectacular events,  and the slow decay of their extensive ruins over time.
Synthesizing an array of sources, ranging from archaeological finds and classical Arabic literature to modern studies on the history of Islamic civilization, this book sheds light on a historical architectural concept that challenges popular notions of the monument as permanent and unchanging.