The Aga Khan Documentation Center at MIT (AKDC@MIT) is proud to present "Building the Independent Nation. Morocco's architectural heritage, 1940-1980" with Lahbib Elmoumni, professor of architecture and co-founder of MAMMA, a cultural heritage organization whose objective is to showcase Moroccan art, architecture, and planning around the second half of the 20th century. The presentation will take place online, January 18th at 5 pm EST, 11 pm in Morocco (UTC/GMT +1:00).
The event is free and open to the public, but registration is required.
Abstract: Since 1912 most of Morocco had been a French Protectorate in which the Sultan had symbolic authority, but the protectorate authorities held the reins of power. However, by 1940 things had begun to change for the world as well as Morocco. Much of the world was gradually becoming embroiled in World War II, and France was conquered by the Nazis. While Morocco supported the Allies, and many Moroccans fought alongside French troops, the movement for Moroccan independence was also building steam. Moroccan intellectuals, artists, and political leaders were already thinking about nation-building in the wake of the Protectorate.
Upon independence in 1956, young Moroccan and foreign architects faced the challenge of building an independent Morocco. The need for a new administration, modern infrastructure, and new education and health facilities led to a construction boom in which architecture and planning professionals had the opportunity to express their vision. They also were asked to develop modern affordable housing to accommodate rapidly and massively expanding urban populations. This generation of architects, artists, and builders proposed new forms of Modern architecture that were not simply slavish models of the Modernist movement as it developed in the West. They sought to develop a distinctly Moroccan form of Modernity that embodied local culture and aesthetics, and that was responsive to the climate and landscape of the areas in which structures would need to be built. They sought to rebel against the colonial vision of urban design in Morocco. To the extent that colonial urban planning and architecture took Moroccan culture into consideration, it was often through a fetishized Hispano-Moorish aesthetic that prioritized form over function.
This lecture will highlight some of the built experiences in Morocco between 1940 and 1980, assessing its significance within the long cultural history of Morocco. It concludes with a discussion of architectural heritage preservation, posing such questions as what are the criteria for determining what should be documented and preserved, and what are the challenges in doing so?
This lecture is intended for all audiences interested in architecture and planning, as well as those interested in learning more about Moroccan architecture and culture.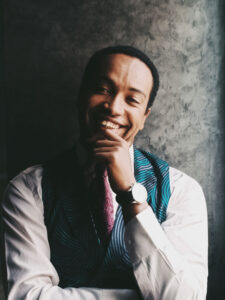 Presenter:
Lahbib El Moumni is an architect and professor at the School of Architecture in Casablanca, Morocco. In 2016 he and fellow architect Imad Dahmani founded Association MAMMA (Mémoire des Architectes Modernes Marocains) to highlight the built heritage of Morocco from the last 15 years of the Protectorate through 1980. The work of MAMMA includes researching and archiving the architectural heritage of this period, as well as raising awareness of it through conferences, workshops, exhibitions, and seminars on the architecture, art, and history of modern Morocco.
Register at: https://libcal.mit.edu/event/8652876