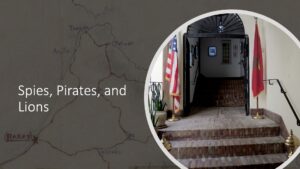 AKDC@MIT is organizing a presentation, "Spies, Pirates, and Atlas Lions: US-Moroccan Relations through the lens of the Tangier American Legation," on Tuesday, January 19, 2021, 4 to 5:30 pm. The lecture is part of the Independent Activities Period (IAP) offerings of the MIT Libraries.
The old American Legation in the medina (walled city) of Tangier, Morocco holds a number of distinctions. It is the first property the United States owned abroad, it is the only overseas site on the National Register of Historic Places, and it was an active diplomatic structure longer than any other diplomatic presence of the US abroad. Today the structure houses a museum, cultural center, and research library, maintained by a US-based NGO and a small local staff. The property was gifted to the young United States by the Sultan of Morocco in 1821, making 2021 the bicentennial of the Legation.
Through the legation and its history, Michael A. Toler, Archnet Content Manager, considers the rich history of US-Moroccan relations, as well as the role of the Legation during the period when the city of Tangier was under shared international rule, including during the Second World War. It also tells stories of some unusual, albeit less historically significant episodes in the history of the Legation, such as the pair of lions who briefly resided on-premises, and the dispatching of American Marines in a case of mistaken identity. This presentation also sets out to challenge some common perceptions about power and its hierarchies during this time period by taking a closer look at some of the correspondences between the Moroccan sultan and US presidents.
Registration for this event is required at: https://libcal.mit.edu/calendar/events/Tangier-Legation.
For information on all MIT Libraries offerings during IAP, including a workshop on Arabic calligraphy organized by AKDC@MIT, visit the calendar.