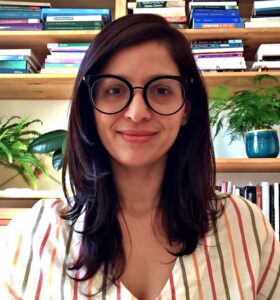 We are thrilled to share the announcement that Nur Sobers-Khan has been appointed Program Head for the Aga Khan Documentation Center, MIT Libraries (AKDC@MIT). Reporting to Emilie Hardman, Head of the Libraries Distinctive Collections (DDC), the Program Head is a critical leadership position responsible for stewarding and developing collections, services, and programs to support the information needs of the faculty, students, and researchers of the Aga Khan Program for Islamic Architecture (AKPIA) in MIT's School of Architecture and Planning. It also provides oversight of Archnet in partnership with the Aga Khan Trust for Culture and engages in other innovative collection development within the DDC.
"We are thrilled to welcome Nur to the MIT Libraries and look forward to her leadership in AKDC," says Hardman. "The Center provides access to such important resources on Islamic art and architecture for global audiences. Nur's scholarly background and deep commitments to service, diversity, and equity, all promise great things for the future of AKDC."
Nur Sobers-Khan brings to the Aga Khan Documentation Center experience from her career in museum and library collections specialized in the languages, visual cultures, and history of the Islamic world. After completing a BA in Oriental Studies in Arabic and Persian followed by a PhD in early modern Ottoman social history at the University of Cambridge that focused on archival and manuscript sources, she went on to work in manuscript and Islamic art collections in the UK and the Middle East. Her previous projects have included the creation of digital catalog records for the British Library's Persian manuscript collections and achieving a grant to fund the digitization of unpublished catalog notes for the Delhi Collection manuscripts while working as the Iran Heritage Foundation Curator for Persian manuscripts at the British Library. She has also served as Principal Investigator of the major research and digitization project Two Centuries of Indian Print, a four-year-long project (2016-2020) leading a team of specialists to conserve, catalog, digitize, and research the early printed South Asian book collection at the British Library and innovate new approaches in digital humanities research methods for South Asian-language material during her time as the Lead Curator for South Asian collections at the BL since 2015.
She has curated exhibitions while working at the Museum of Islamic Art in Doha, Qatar, on manuscript production at the Safavid and Mughal courts and on the visual tropes of gender in the Qajar period, which resulted in a book-length study. Other publication topics include the social history of slavery and manumission in 16th-century Istanbul based on Ottoman court records, Islamic dream interpretation and epistemological pluralism, Islamic art and museology, and more recently, some forthcoming essays on the visuality of Islamic divination and the transition from manuscript to lithograph production in 19th-century South Asia. In addition to her work as a cultural heritage practitioner, Nur has also recently spent a year teaching as an associate professor in the newly created department of Comparative Liberal Studies at Habib University in Karachi, Pakistan, where she served as co-director of the new department and also had the opportunity to design and teach the undergraduate courses, "Dream Interpretation: A Decolonial History" and "Islamic Art and Visual Culture: From the Middle East to South Asia."
AKDC@MIT staff expressed their enthusiasm over the choice when Emilie announced it during a staff meeting last week. "The search committee has made an excellent choice in appointing Nur Sobers-Khan," says Michael Toler, Archnet Content Manager in AKDC@MIT. "Not only is her experience well-suited to the position, but she also brings subject matter expertise in important periods of Islamic art that complement that of our current staff and the AKPIA faculty." Matt Saba, Librarian for Islamic Architecture at AKDC, adds, "We very much look forward to welcoming Nur to MIT, and working together on an array of projects where her significant experience and expertise will be critical."
"I feel truly honored and excited to join the extremely talented team at the AKDC and the wider MIT libraries at a moment when it is crucial to re-imagine what a library can be," says Sobers-Kahn. "I look forward to working with the incredible researchers, students, and academics at the Aga Khan Program in Islamic Architecture, as well as our counterparts at Harvard University. The work that the center is doing is unique in its scope and approach, and extremely important to scholarship and public engagement on Islamic visual culture and architecture, and I look forward to making a meaningful contribution."
Sobers-Kahn will begin in her role on February 15, 2021.