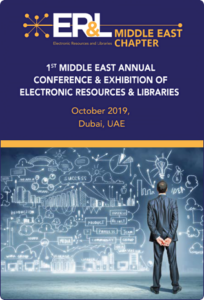 The 1st Annual Conference & Exhibition of Electronic Resources & Libraries – Middle East Chapter (ER&L-Middle East) takes place October 9-10 at the InterContinental Hotel in Festival City, Dubai, UAE. AKDC@MIT will be represented in the vendor fair by Interim Program Head and Archnet Co-Director, Dr. Michael A. Toler.  He will be demonstrating Archnet and other AKDC online presences in the ER&L – Middle East Exhibition.
Stop by with your questions, comments, and suggestions about Archnet or any other AKDC services. I would be particularly interested in ideas for collaboration that might help us provide Archnet users with more comprehensive coverage of the built environment in Muslim societies.
ER&L Middle East is  a conference for library vendors, publishers, library professionals and others working in e-resource management and digital services. See www.erl-me.com for more information.