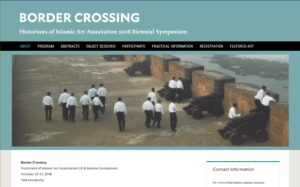 The Aga Khan Documentation Center at MIT (AKDC@MIT) is excited to offer an information session on its collections at the 2018 Biennial Symposium of the Historians of Islamic Art Association (HIAA), taking place at Yale University on October 25 – 27, 2018.
Matt Saba, Visual Resources Librarian at AKDC@MIT, will offer an overview of the center's collections, highlighting new acquisitions since 2012. Noteworthy examples are the archives of Iraqi architects Mohamed Makiya, Hisham Munir, and Rifat Chadirji, whose works represent a pivotal moment in the history of modern architecture, and the archive of French architect Michel Écochard, who worked on numerous urban renewal projects in the Islamic world. Michael Toler, Interim Program Head and Archnet Content Manager at AKDC@MIT, will offer attendees a status update on Archnet and preview Layercake, a new tool for mapping historical events in both space and time.
This year's HIAA Symposium, titled "Border Crossing," brings together an international group of scholars to present research on areas in the field of Islamic art traditionally defined as marginal. This includes both so-called peripheral geographic regions (e.g. Southeast Asia and Western Africa) as well as marginalized methodologies to the study of art history. Registration for the symposium is available online here.
AKDC@MIT's information session takes place from 1:15-2:00 at the Loria Center, 190 York Street, New Haven CT, Room 360.